Carrie Underwood revealed she got 40 stitches on her face after her fall in November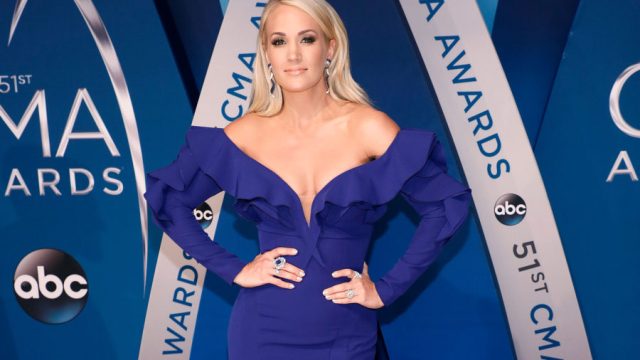 In early November, Carrie Underwood shared that she had sustained a wrist injury after falling at her Nashville home. And on December 31st, Underwood revealed that she also received 40 to 50 stitches on her face due to the same fall.
Underwood wrote a letter to fans via her fan club website in which she stated the accident was more serious than we previously thought. While Underwood was being treated for her injuries, doctors told her husband, Mike Fisher, that she would need facial stitches.
"In addition to breaking my wrist, I somehow managed to injure my face as well," Underwood wrote. "I'll spare you the gruesome details, but when I came out of surgery the night of my fall, the doctor told Mike that he had put between 40 and 50 stitches in...It's crazy how a freak random accident can change your life."
Currently still recovering, Underwood isn't sure what she'll look like at the end of the healing process.
"Now, here we are 7 weeks later and, even though I've had the best people helping me, I'm still healing and not quite looking the same," she wrote. "I honestly don't know how things are going to end up but I do know this: I am grateful. I am grateful that it wasn't much, much worse."
Underwood wanted to alert fans that she may look a little different when she finally appears on camera. But despite her injuries, she plans to get back in the studio the first week of 2018.
In her most recent selfie posted last week, Underwood's face is mostly covered by a scarf from her clothing line.
Stitches or not, Underwood will always remain the singer we know and love. Get well soon, Carrie!