Carrie Underwood shared the first photo of her face after an accident left her with 40 stitches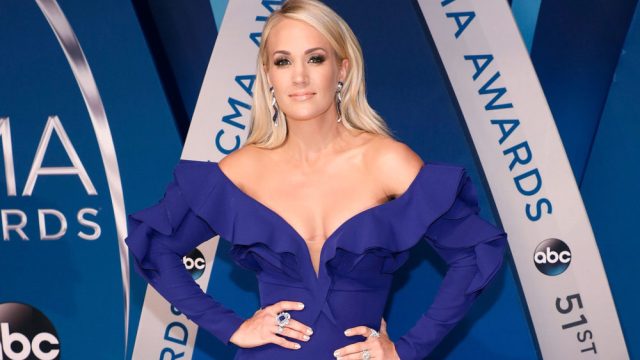 After keeping an incredibly low profile for the past few months due to injuries sustained during a nasty fall at her home, Carrie Underwood appears to be officially on the mend and back at work. Late last year, it was reported that the country singer had broken her wrist in the fall, but Carrie Underwood revealed in January, that her injuries were actually more severe than initially reported.
In a note to fans, which was obtained by People, the "Before He Cheats" singer revealed that the "freak" accident also caused injury to her face and required somewhere between 40 and 50 stitches. The singer told fans that the facial injury was keeping her away from cameras for the time being and warned that when she decides to return to the cameras, she may look a little bit different.
Earlier today, April 4th, the singer took to Twitter to share a photo of herself back in the studio, and she looks focused and better than ever.
Prior to this studio pic, the only shot of the "Blown Away" singer for months was a gym photo with Below Deck alum Adrienne Gang taken before Underwood went public with her facial injury.
"There is also another part of the story that I haven't been ready to talk about since I have still been living it and there has been much uncertainty as to how things will end up. It's crazy how a freak random accident can change your life," Underwood revealed to members of her fan club in January.
"In addition to breaking my wrist, I somehow managed to injure my face as well. I'll spare you the gruesome details, but when I came out of surgery the night of my fall, the doctor told [Underwood's husband] Mike that he had put between 40 and 50 stitches in."
We're so glad Carrie Underwood is feeling ready to return to the public eye. And we're hoping this tweet means we'll be hearing some new music soon!