Carrie Fisher's former assistant shares the most beautiful and hilarious stories from his three years working with her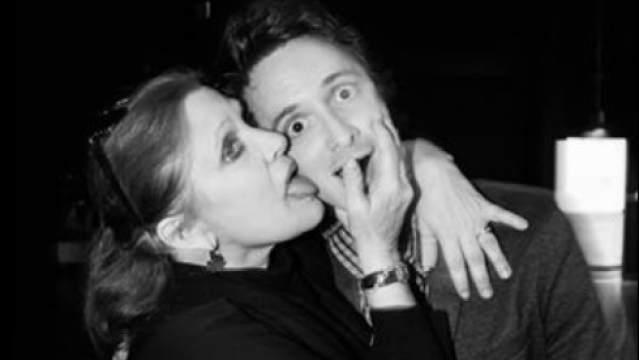 This week has been really hard for anyone who was touched by the incredible Carrie Fisher. But her former assistant is really feeling it and we fully understand.
So many are mourning Fisher, since she died after complications from a massive heart attack, sharing their favorite stories of working and loving the star and Carrie Fisher's former assistant penned a heartfelt post.
Byron Lane, who worked as Fisher's assistant for three years took to Facebook to share his favorite memories and the way he described Carrie's spirit is so moving.
"She once got a text alert from weather.com saying the northern lights were gonna be big...so that night I had to book flights and the next day we were there, Lane wrote in his moving tribute. When Gary had to pee on a plane she took him and a wee-wee pad into the lavatory and how they worked it out is one of life's great mysteries.
He continues, "Most of my time with her involved me staring at her, wide-eyed and in blissful shock that one person could live a life so fully. We rode dog sleds in Canada, swam hot springs in Japan, pet koalas in Australia. That's how she lived. Extraordinary. Brilliant. Hilarious. And generous! Not every assistant job is like that."
"I feel so lucky, you guys! So! Lucky! But, you know her, too. Because she was exactly the same in private as in public. Authentic. Honest. Real. A champion for mental health, veterans, feminism. She did anything for her family, loved her friends, embodied aliveness. I'll miss her so, so much."
You can really feel how amazing Fisher was and how she truly touched lives of many from the heartwarming testimonials from those who knew her best. Sending our love to her family and friends in this time of great grief.