Someone left behind a touching note for Carrie Fisher at a "Star Wars" costume exhibit, and our hearts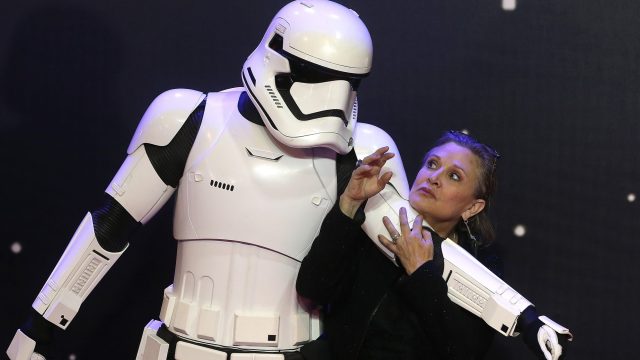 It's been roughly 24 hours since we first learned of Carrie Fisher's heart attack. While landing at LAX, the fierce lady behind Princess General Leia suffered a sever medical emergency, and was immediately rushed to a nearby hospital. While she was first brought into the emergency room, recent reports suggest that she is now being treated an intensive care unit, and honestly, we're just so happy to hear that she's okay. Like with any medical issue, her road to recovery will be long and it's up to us to keep spreading so much Carrie Fisher love.
While messages of love (AND HOPE) have begun to spread across social media, someone happened to spot an IRL message for Carrie. Right now, there's a huge Star Wars costume exhibit happening at the Denver Art Museum (omg, we want to go), and obviously, it is very popular. It also took on a special meaning today as those visiting wandered around some of Carrie's old Star Wars costumes.
Gillian Smith, who works for Paramount Pictures online publicity, happened to be at the costume exhibit on Christmas Eve, when she spotted a little note tucked into one of the Princess Leia displays. She tweeted out the note, so we ALL could feel the FEELS. false
The note itself is a little bit hard to read, but it says: 
Thank you, Ms. Fisher, for being my first + lasting hero.
TBH, Carrie Fisher is our first, last, and forever hero. We continue to send SO many positive vibes and well wishes her way, and here's to a speedy recovery. We need Carrie Fisher in our lives forever.