As you can probably guess, Carrie Fisher gave the new "Star Wars" cast the *best* advice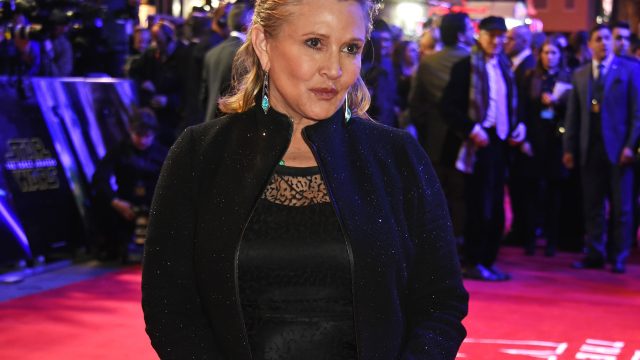 Carrie Fisher's legacy lives on far beyond the Star Wars universe. But, for those who were lucky enough to work with her on the Star Wars set, her influence remains almost palpable. The Last Jedi cast opened up about the often colorful wisdom Carrie Fisher shared with them. And it's making us miss the fiery feminist even more.
The Star Wars cast agreed that Carrie Fisher was their fearless leader, both on and offscreen, in a recent issue of Vanity Fair.
Her unforgettable advice to Daisy Ridley and John Boyega helped them cope with the intensity of making these epic movies. Plus, it guided them in living with the incredible notoriety their roles brought them in the real world.
Ridley shared that Fisher understood better than anyone that life after Star Wars is completely different than life before. Ridley found the amount of attention she was getting to be overwhelming. She said she sometimes felt like she was "shrinking." But Fisher wanted to make sure she knew that the incredible experience wasn't something that she should hide from.
Ridley said, "She told me never to shrink away from it — that it should be enjoyed."
That's helpful advice for anyone who finds themselves in over their heads. But Fisher didn't just talk a good game. She lived just as honestly. Both Fisher's words and her actions inspired the young actress.
She explains, "Carrie lived her life the way she wanted to, never apologizing for anything, which is something I'm still learning."
John Boyega also shared that Fisher's words of wisdom really helped him out. When he debuted as a black stormtrooper in the initial Star Wars teasers, there was (sadly) a huge amount of backlash directed at him. But Fisher wasn't about to let him be affected by it. And he recounted her NSFW response to all the haters.
He said, "I remember — and forgive me, I'm going to drop the f-bomb, but that's just Carrie — she said, 'Ah, boohoo, who fuckin' cares? You just do you.'"
To nobody's surprise, Princess-turned-General Leia was not one to mince words.
Carrie Fisher's death remains a tragedy for our world and the Star Wars universe. But clearly her legacy lives on in our galaxy and on all those far, far away.