There are Carrie Fisher billboards popping up all over the country, and they are beautiful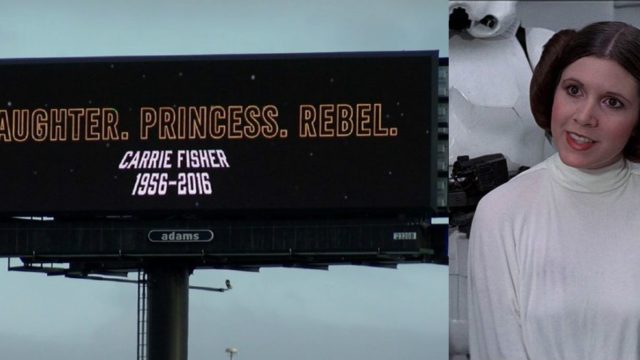 How do you even begin to honor an icon who has sadly passed away, but meant so much to you in life? Over the last few days we've seen literally thousands (if not, millions) of tributes for Carrie Fisher pop up in all shapes and sizes, from social media statements to an IRL star on the Hollywood Walk of Fame. Now, what is literally the biggest tribute has popped up, and it is so cool and beautiful.
Next time you're driving, you just might see Carrie.
Shortly after Carrie passed away, Twitter users started noting that they were seeing digital billboards along the highway flash pictures of our fallen princess general.
false
https://twitter.com/udfredirect/status/814978472514908160
This is very much one of those "pic or it didn't happen" situations. Many went back out to drive down the highway and SAFELY started snapping pictures of these digital billboards all across the country. They seem so random, but honestly, we really needed something like this right now.
https://www.instagram.com/p/BOrkYhWhltq
There's even one billboard in Wisconsin that features Carrie on one side, her mother, Debbie Reynolds, on the other.
This is certainly an unconventional way to honor Carrie and her mother Debbie, but we love it. Let's go ahead and turn every billboard in the U.S. of A into a Carrie and Debbie tribute billboard.