Carly Rae Jepsen says this is the weirdest place she's heard "Call Me Maybe" play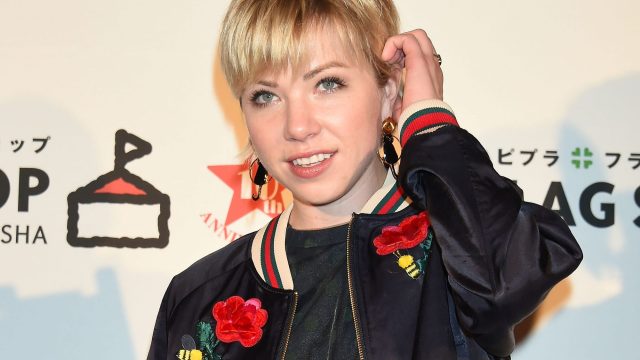 Can you believe it has been five years since Carly Rae Jepsen's infectious "Call Me Maybe" took over our lives for a summer? Every car, every phone, every speaker — anything that could play music had the lyrics "Hey, I just met you…" blasting, with all who listened powerless to not scream back "And this is crazy!"
In addition to embracing her new status as an internet meme, Jepsen has continued to release just-as-catchy tunes for us to jam to, like 2015's overwhelmingly awesome "I Really Like You" and her newest release "Cut to the Feeling."
But nothing will ever top "Call Me Maybe." The song holds a place in our hearts and party playlists.
Turns out, it's just as special for Jepsen. In a recent interview with Mashable, Jepsen admitted that the five-year anniversary of her hit song is a total "blur." Just like we did, she heard the song play everywhere. But there was one time in particular that it was extra surreal.
When asked about the weirdest place she ever heard her earworm tune, Jepsen gave a surprising answer — one that involved, of all people, James Franco.
"I remember being in LA and having someone send me James Franco doing his version of a lip sync of it, Jepsen says. "I remember thinking, 'This is insane! The man who is like the most gorgeous man in the world is doing my song. Pretty stoked.' It was crazy.
Admittedly, to have the hotness that is James Franco do anything in your honor is beyond flattering.
Franco wasn't the only person to make a parody of "Call Me Maybe." Who can forget the endless collection of viral lip-synching videos her song initiated?
There was Justin Bieber and Selena Gomez — oh, what a relationship throwback.
https://www.youtube.com/watch?v=AsBsBU3vn6M?feature=oembed
Then there was Katy Perry at Coachella, livin' it up.
https://www.youtube.com/watch?v=luR4BnfM9vw?feature=oembed
And one of the most memorable? The USA's 2012 Olympic Swimming Team.
https://www.youtube.com/watch?v=YPIA7mpm1wU?feature=oembed
Having James Franco pay tribute to your song is pretty much as good as it gets. But then again, how could Jepsen forget the Harvard Baseball boys?
https://www.youtube.com/watch?v=eEWVwgDnuzE?feature=oembed
Call us all, maybe?