One Mom Shares What It's Like Caring For Her Dad: "He Doesn't Even Know My Name"
When Nikki Speer's dad had a stroke, she became his caregiver, and takes each day in stride.
"He doesn't even know my name."
That's the sad reality for 44-year old North Carolina mom Nikki Speer. While she's been a caregiver to her three children for the last 21-years, nothing could have prepared her for playing that role for her ailing dad.
"It's a lot like the child-raising years where the days are long and the years are short," shares Speer, "except for this time, you know the end result." While Speer admits that's a "gloomy" thought, it's something she can't help thinking about.
RELATED: Losing My Dad: A Grief That Never Fades from View
About a year ago, Speer's 80-year old dad Michael had a debilitating stroke that "wiped out the right side of his brain," says Speer, and left him unable to care himself. After spending six months being cared for by Speer's sister in New York, Michael moved in with Speer and her family in Wake Forest.
Suddenly, she and her husband Gerrod found themselves in a role reversal they had never anticipated nor had properly prepared for — caretaker.
"No one ever prepared us to raise our parents. It's a lonely space because there is a lot of sitting and doing nothing, no talking, no playing cards, no reminiscing, just sleeping and serving! There aren't parties and playdates and friends, like there is when you are taking care of children," says the mom.
Speer remembers all-too-well the pain of watching a parent suffer, as her mom had battled breast cancer before succumbing to the disease in 2015. It was something she had hoped she'd never have to go through again.
"He was a selfless caretaker for my sweet Mama when she battled breast cancer for almost 10 years of their 43 year marriage and in her honor, helped my husband and I form a non-profit," explains Speer, who now works part-time from home.
While a typical day for the mom entails helping her dad with things like blowing his nose, managing his emotions (she says he now has the mental capacity of a four year old), and dealing with frustrating side-effects like his memory loss, she recalls the "amazing" father he was to her growing up.
"He showed us and told us he loved us all the time," Speer laments. "He also taught us to be generous and hard working," she recalls. "He would cheer us on during our sporting events and games, and tell us what we could do to be better."
"When I was 22, I became pregnant with my son, Colin, and he and my mother allowed me to move back home with my baby," she shares. "My dad would come home on his lunch hour just to hold and rock him. 19 years ago, my husband and I eloped to Las Vegas for our wedding and he gave us a lump sum of money to put a down payment on a house. He was the best dad!," she exclaims.
Dad may have been Nikki's biggest cheerleader but now that he's sidelined, she's rearranged her life to do the same for him. "We take walks in the sun every day if he has the energy, and eat lunch together. We sit on the porch in the rocking chairs listening to his favorite singer, Frank Sinatra. At night, we watch Wheel of Fortune and Jeopardy, and he spends time with our two teenage daughters as we all eat dinner together. Each night ends in prayer. It's tough during the day because he gets restless and irritable."
Speer's 16 and 15-year old daughters help out by giving the man they affectionately call "Pop Pop" back rubs, lots of hugs, and baking him treats.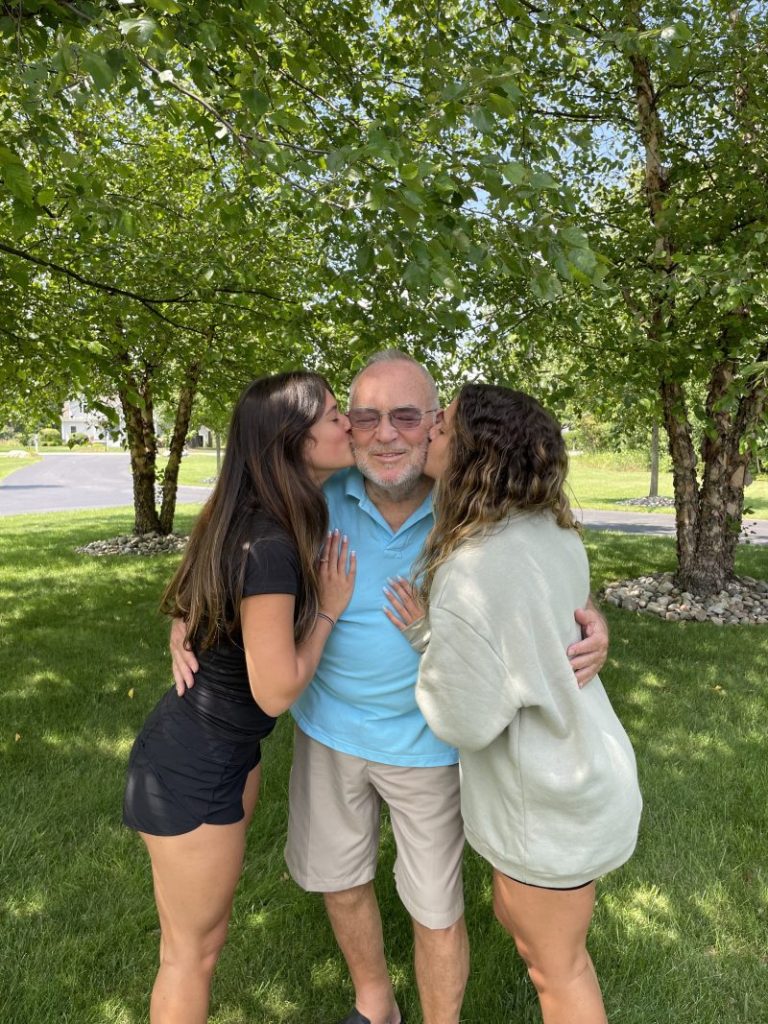 Despite its obvious challenges, Speer looks on the bright side: this is a chance to repay her dad for all that he did for her throughout her life.
"Everyday is a new day to serve and honor the dad that was so incredible to me. Don't get me wrong; it's extremely exhausting and has many challenges, but with the help of my supportive family, we will get through this," she adds.
Perhaps, the hardest pill to swallow is that Speer knows that this is likely a permanent situation. "He will never be 100% better, or really be able to be independent again. He can shower and dress himself, but that's about it," shares Speer. "But hopefully with a lot of love, good food, and good care, he will have a few more years with us."
While Speer maintains that positive outlook and leans on her family and her faith to get her through, she says it's important to take it all in stride. "I have learned that, as humans, we have a tendency to want to rush through to the other end. But, if I rush through this, I will be parent-less. So I try to enjoy each and every day."
As 'Ol Blue Eyes himself famously sang, that's life — and Nikki is helping her dad have the best one possible.
Jené Luciani Sena is an accredited journalist and internationally-renowned bestselling author, regularly seen on national TV outlets such as Access Daily, Today and Dr Oz. Touted as one of Woman's World Magazine's "Ultimate Experts," she's a TEDTalk speaker and a busy Mom of 4.
Read more