Cargo Cosmetics joined forces with "Star Wars" on a nail polish kit that rules the galaxy
Star Wars: The Last Jedi is almost in theatres, and the Cargo Cosmetics x Star Wars nail polish kit is causing a disturbance in our hearts (in a good way).
The latest installation in the epic space opera comes out in just over a week, but Cargo's Star Wars makeup collection is already here. The galaxy-inspired collection is the perfect alliance between the professional-quality brand and the massive movie franchise.
The line includes eyeshadow palettes influenced by the light and the dark sides, mascaras to lengthen and volumize lashes, and four collectible compact mirrors featuring General Leia Organa, Captain Phasma, Rey (is she the Last Jedi, or what?), and BB-8.
We are especially excited about Cargo's first ever nail polish kit.
The limited-edition set includes four brilliant lacquers that dry at lightspeed with high-shine. The formaldehyde-free polishes were inspired by the division between the light and dark sides of the Force.
The colors include Restore the Republic (a silver holo glitter), and Praetorian Guard (a very Kylo-red). The Force is a cobalt lightsaber blue, and Rule the Galaxy is a metallic gold that shines like C-3PO.
The kit retails for $22 for four polishes and makes the perfect gift for the Star Wars fan in your life. With four polishes to choose from, you can have a manicure party with a friend or three. Because it's more fun than painting your hands…solo. (Sorry.)
Behold the power of the polish.
Unlike a collectible action figure, you'll want to unbox these immediately.
Cargo Cosmetics x Star Wars Episode VIII The Last Jedi Nail Polish Kit, $22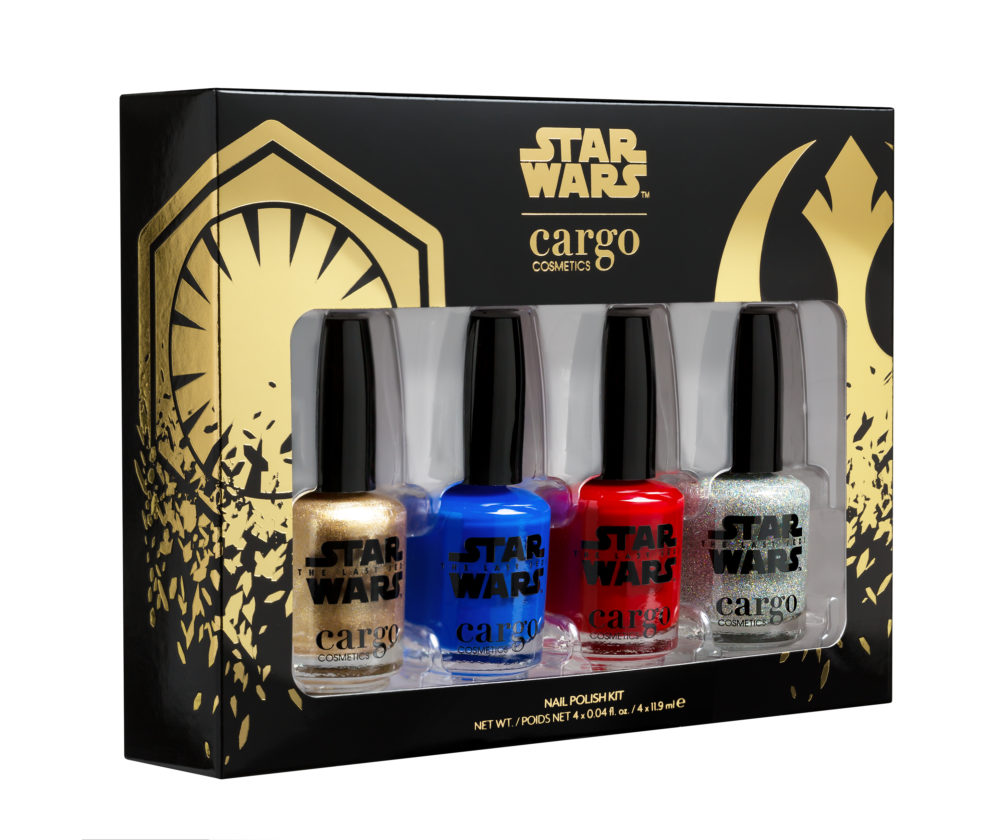 Shop the Cargo x Star Wars Episode VIII The Last Jedi collection (including the Nail Polish Kit, $22) on cargocosmetics.com.