Cardi B Was Doxxed Because of Her Political Posts, but She's Fighting Back
She also addressed Candace Owens' tweets, in which she implied Cardi was being used as a political pawn.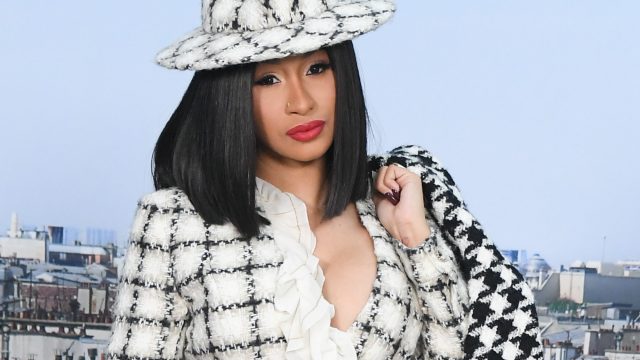 Cardi B, who has interviewed Bernie Sanders twice, has long been vocal about her political affiliations and strong dislike for president number 45 on social media—and now she's opening up about the hate she's received because of it. In an impromptu Instagram Live video on Sunday night, which was prompted by a Twitter argument with conservative Black activist Candace Owens, the rapper talked about the targeted harassment she's endured from various Trump supporters.
She started the video with the camera showing only her hand and metallic pink manicure. "I'm not gonna show my face on this video," she said. "I look like shit, I feel like shit. I'm a little sick and I don't know why the devil decided to try me today, but I'm going to give demons a response today." Then, she reiterated where she stands politically.
It's not a secret that I use my platform for people to vote. I love politics. I endorse the Democratic party. Everybody knows I don't fuck with Trump like that, she said.
Cardi B went on to explain that the side her fans often don't see is that she gets "harrassed by Trump supporters so much" explaining the kind of hate she receives daily.
"They be degrading me," she said. "They be making fun of me, everything. I ignore them. I don't give a fuck. Let me tell you something. Shit gets so intense that a Trump supporter posted my address and encouraged people to dox my home, to put my house on fire. I literally hired a private investigator, and serve them with a warrant and arrest this boy. This boy was a fucking teenager. His parents were fucking shook."
Cardi B also addressed a few of Owens' tweets, in which she implied that Cardi was being used as a political pawn.
"Joe Biden used you. Bernie Sanders used you. Neither one of them like or know your music. They think you're dumb," Owens tweeted on Sunday. She continued in another tweet, writing, "When you stick to music, you can get left alone. When you dabble in politics, you will get called out for platforming ignorance."
Cardi responded with an especially on-brand comeback, assuring that she is capable of being a multi-faceted public figure. "Just like I can make people pop their pussy and have a good time, and make them feel like a bad bitch, I can also encourage millions of followers to go vote," she said.
She continued: "You're saying Joe Biden is pandering because he's using a popular figure like me," said Cardi. "But your president, the guy that you fucking love so much, he panders as well too."
Cardi B also went on to address a recent altercation involving her sister, Hennessy, who recently shared a video of being harassed while on a beach in the Hamptons with her girlfriend.
"No matter how much money I make, no matter how hard I work, I can't be a fucking free American. My sister can't be a fucking free American," she said. "You got this fucking Trump supporting family harassing two lesbians. The fuck?"
Even with the disheartening and frightening amount of harassment her and her family are receiving, Cardi B promised that she is not going to stop talking about politics and pushing for a more progressive future.
"I'm gonna keep telling my millions of followers to vote until we get your president out of here," she said.