Cardi B revealed her tips for financial success—and every woman should read this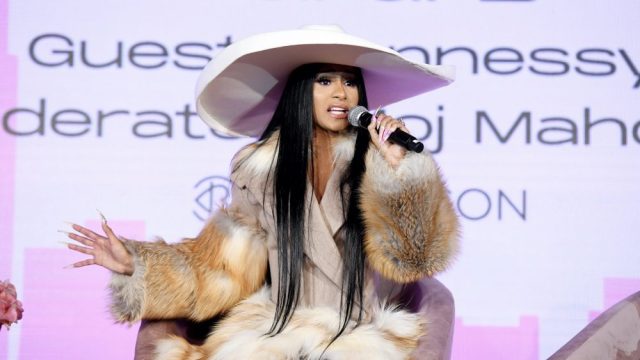 Cardi B has been making some serious money moves lately. After her debut album, Invasion of Privacy, made a splash on the charts, she went on to become the first female solo artist to win Best Rap Album at the 2019 Grammy Awards. Cardi has always been candid about how hard she worked to get to where she is, so when she recently shared her tips for financial success, we were paying attention.
According to The New York Times, Cardi gave a talk on April 7th at Beautycon N.Y.C. called "Making Money Moves," where she was joined by Beautycon CEO Moj Mahdara. She reportedly addressed issues like pay inequality, living paycheck to paycheck, and even taxes. Here are some of the highlights of what she said, per The Times.
1You have to ask for what you want.
Even though Cardi B knows exactly what she's worth now, she revealed that she used to have trouble asking for what she wanted. The rapper urged women to not be shy about speaking up when it comes to financial matters.
"That's why men are sometimes good hustlers," she said. "Women are so timid. A lot of girls ask me, 'How do I get what I want?' By asking."
2 Make sure you're financially independent from your partner.
The rapper recalled that when she was younger, her mom cautioned her to only have children if she could provide for them by herself. Although she recalled thinking her mother was "paranoid," she told the audience that now she has come to understand this advice.
"I always dated guys that had money," she said. "But I didn't have the money. What happens if we separate? I don't want to be asking you for stuff—no, that's not my style."
3 Don't let social media distract you from your goals.
According to The Hollywood Reporter, Cardi warned against getting distracted by the internet, but she also acknowledged that social media can be useful for budding entrepreneurs.
"There is so much distraction right now," she said, per THR. "The internet has so many ways to make money, but you don't even notice that because you're so focused on, 'Who is Cardi B? Who is Kim Kardashian?' I wish I knew how poppin' Instagram was because I would be selling all those things, this and that. Watch the bloggers' recipe because you can be doing the same shit. I watch how Kylie Jenner became a f*cking billionaire!"
We're definitely taking notes.