What Cardi B's career success and new pregnancy means to many young Black women
If anybody has had an incredible 12 months, it's rapper Cardi B.
She broke an almost 20-year record for female rappers on the Billboard charts, was nominated for two Grammys, got engaged to her partner, Offset, released an album on April 6th that has already gone gold, and announced her pregnancy while performing on SNL on April 7th. This woman keeps it moving.
The chart-topping rapper's openness about her experiences as a stripper (and as a domestic abuse survivor) and her honesty about her life in general has quickly made her a cultural phenomenon.
Cardi B has shown people the sheer determination possessed by Black women, while also proving that pregnancy isn't the end of your life as a professional woman — it's a new beginning.
Cardi saw stripping as a way out of her hellish life. In an interview with Vlad TV, she discussed moving in with a partner, being physically abused, and making a measly $200 per week. As someone who has lived in New York, I can personally tell you that $800 a month is chump change. Rent alone can be $800. That's not even considering food, travel, or clothes. Cardi was determined to stop stripping by age 25, stating in an interview with The FADER that she wanted to have children at that age. According to her chat with the magazine, Cardi quit stripping when she was 23.
The end of her career as a stripper did not immediately mean awards and commercials. Her personality and hilarious Instagram videos, however, made her popular in the club, and that popularity carried over onto social media. Soon, she was an Instagram influencer, making money by hosting events and whatever else she could capitalize on. From there, Cardi went on to appear on Love & Hip Hop, a reality television show that's not exactly known for creating full-on superstars. But Cardi played her cards right — getting into just enough disputes and creating enough quotable content to make it big. After leaving the show, she began hyper-focusing on her artistry — hustling enough to get noticed (and signed) to Atlantic Records and releasing the sizzling summer single, "Bodak Yellow."
All of her struggles and hard work finally paid off as the track became a full-on anthem. She soon released a slew of collaborations that also climbed the charts, including her platinum second single, "Bartier Cardi."
After beginning 2018 with a Grammy performance, Cardi B announced that she would be joining Bruno Mars on tour and released her highly anticipated, critically acclaimed, and commercially successful album, Invasion of Privacy, on April 6th.
Then, to put the icing on the cake, Cardi shared with the world that she was pregnant with her first child.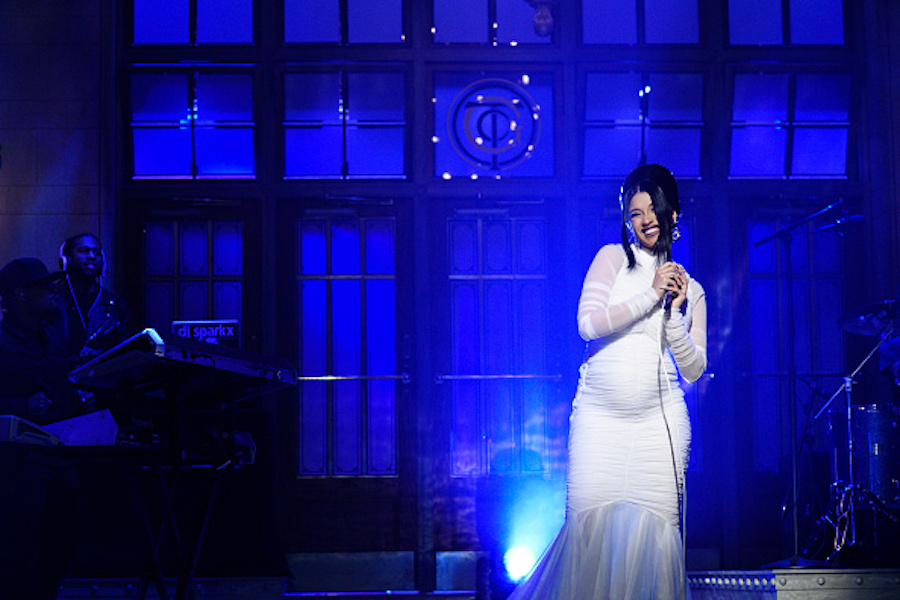 So what does all of this mean?
It means that Black women don't always have the same opportunities as white women, but we still can make it. Despite our talents and intelligence, we sometimes have to take unconventional routes and face massive obstacles to get where we want to be.
Cardi B's success also symbolizes that a woman like her — a child of immigrants, someone who doesn't speak perfect, grammatically correct English, a former stripper, and an outspoken social media star — cannot only exist freely, but rise to the top.
Her determination showcases the unique spirit that Black women possess. It is a spirit that is timeless; acknowledging one's past, no matter what it includes, utilizing the resources of the now, and creating a bright future. Cardi's pregnancy indicates that bringing new life into the world is a blessing. Pregnancy is not the end of a woman's career, it does not signify the end of her dreams, and it's not something to fear.
Women, especially young Black women, have long had their love lives and bodies policed as they relate to reproduction and respectability (i.e Lauryn Hill and Brandy). Those standards intersect with our ideas of success, creating fear and shame in Black women.
Ph.D. student and Twitter user Feminist Griote expounded on the latter in a brilliant thread on Cardi over the weekend.
It's great that Cardi has gotten to a point where she can happily share that she's pregnant. But her joy didn't stop people from critiquing her choice to have a child at the height of her success. These cruel, sexist remarks would be enough to discourage any woman — but especially a woman who has needed to constantly defend her decisions. false
The choice to have a child is highly personal. Our social media culture combined with Cardi's brutally honest demeanor may have some people thinking they are entitled to know every detail of her personal life, but Cardi B and Offset having a baby has little to do with the general public.
Cardi having a child at this point in her career exhibits the rapper continuing to redefine what young, Black women are supposed to do. When has she ever done what she's "supposed" to do? Where do these expectations come from?
It is time that we stop placing limiting expectations on Black women. Not only is it a waste of time, but those presumptions hold no weight in reality. Cardi B has already changed her entire life over the course of three to four years through a career, stripping, that many would consider unseemly. That should have been proof enough that she doesn't care about what is expected of her — let's not continue to criticize her for choosing to have her first child when she wants to.
Cardi B's triumph has opened doors for Black women all over the world. She did her absolute best with what little she had, and we can all see where it has gotten her. Congratulations and thank you, Cardi. You deserve the best and so does your little one.