Cardi B's sister accidentally revealed the sex of her baby, but in the sweetest way possible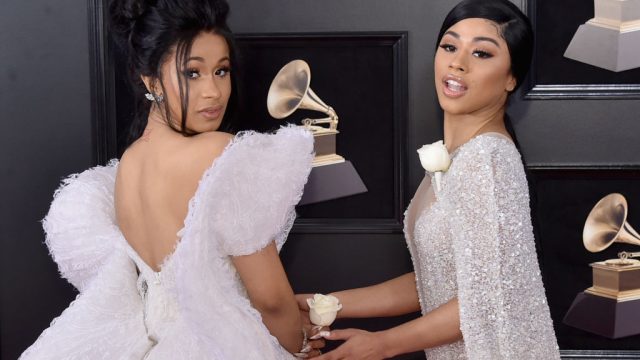 Cardi B announced her pregnancy on April 7th, 2018 during her debut performance on Saturday Night Live. She began her performance of "Be Careful," a song that seemingly warns her fiancé Offset after his infidelity, and midway through the performance, the camera pulled back to reveal her proud baby bump. Other than this recent announcement, Cardi has kept her pregnancy a secret. However, her younger sister Hennessy Carolina might have accidentally revealed the sex of Cardi's baby…
…and it seems like Cardi is having a little girl. * insert heart eyes here *
Hennessy posted the sweetest tribute to her older sister, detailing how Cardi was like a second mom to her and how she's as excited for Cardi's pregnancy as if it were her own child. Hennessy has since changed the wording in the post, but she originally wrote that she was so excited to "hold ur baby and give her all the kisses," but later changed "her" to "the baby."
The Shade Room screengrabbed the original post where Hennessy referred to Cardi's baby as a girl.
Besides the sex-reveal snafu, the rest of Hennessy's post is a beautiful tribute to her older sister. Below, Hennessy's edited comment in full:
"A baby is truly a blessing from god I know how much you always wanted to be a mom! You always been Like a second mom to me so I know u gonna be the best mommy everrrr. you took care of me like i was ur own daughter I know how much you LOVE babies. Growing up, you would always break me off a piece of your plate without me asking... to our little brother you give him whatever he imagines .... every time I use to see your adorable baby pictures , I use to wish I was older than you just so I wouldve gotten the chance to carry you and give you kisses when you were a baby because you were so cute and adorable! and NOW that ur baby is coming its like it's coming true! I'm going to be able to hold ur baby and give the baby all the kisses and hugs! your pregnancy is mines we pregnant can't believe we're having a baby! hehehehe and to my brother @offsetyrn @iamcardib Auntie hennny aowwwww."
She even punctuated the thought with a signature Cardi "aowwwwww."