Cardi B sang about wanting a threesome with Rihanna, and Twitter is a ball of fire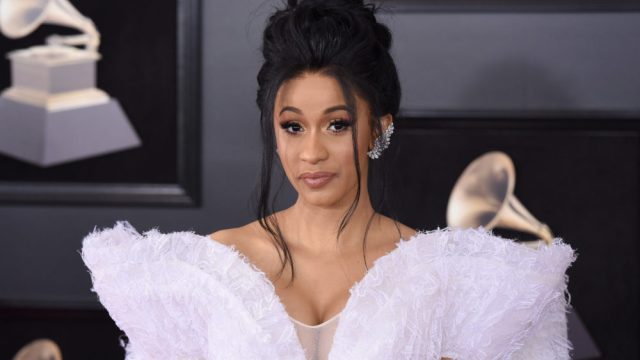 Cardi B's highly-anticipated debut album Invasion of Privacy is here – and it lives up to ALL the hype. Ever since her first single "Bodak Yellow," the world has patiently waited to see what the rapper's first LP would sound like. Well, it's safe to say it was definitely worth the wait. Not only is the album actual fire, but fans on Twitter seem particularly excited about the "She Bad" lyrics. In it, she raps about wanting a threesome with two very famous faces: Rihanna and Chrissy Teigen.
"Spoil me in Prada, I'm worth every dollar (cash) / The one you made, could keep 'em (yeah) / I need Chrissy Teigen / Know a bad bitch when I see one (yeah, woo) / Tell Rih-Rih I need a threesome," Cardi raps.
Though Rihanna has yet to respond to the shout out, it didn't take long for Teigen to reply on Twitter. In true Chrissy Teigen fashion, she jokingly reacted in shock – gasping and dropping her biscuit.
She followed that tweet up with a photo of her biscuits.
She's not the only one to react to the "She Bad" lyrics. In fact, Cardi's song has pretty much sparked an online meltdown and the tweets are hilarious AF.
https://twitter.com/udfredirect/status/982119892697534464
false false
Rihanna and Teigen aren't the only celebrities mentioned on the album. In the song "Best Life," Cardi refers to Beyoncé and Tina Knowles. ("I took pictures with Beyoncé, I met Mama Knowles.") On the track "Money Bag" she refer to "lips like Angelina [Jolie]." Also, the song "I Like It" contains a reference to the Lady Gaga song "Paparazzi."
Listen to "She Bad" in the audio video below:
https://www.youtube.com/watch?v=aiYfOWu5ZhY?feature=oembed
Invasion of Privacy features a number of collabs, including one with Chance the Rapper, as well as tracks with SZA, Migos, and Kehlani. It even includes the songs, "Bodak Yellow," "Bickenhead," and "Get Up 10."
It's safe to say Cardi's new album will be on repeat all day. We'll also be keeping a watchful eye to see if Rihanna reacts to the lyrics, of course.