Cardi B debuted her adorable baby bump in a surprise pregnancy reveal on SNL, setting Twitter on fire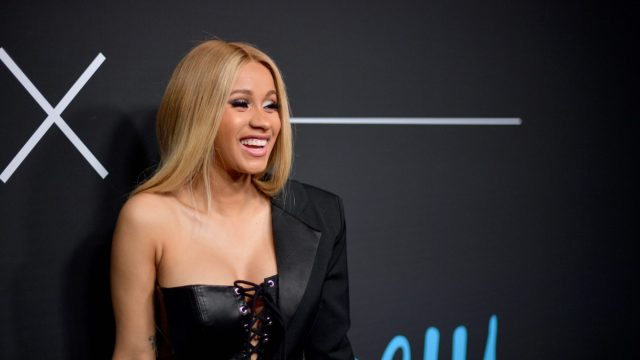 If you've been on the internet *at all* over the last few days, then you know Cardi B is officially dominating. Her highly anticipated debut album, Invasion of Privacy, dropped Friday, April 6th, and it promptly sent the internet into a frenzy. (Especially after she rapped about wanting a threesome with Rihanna and Chrissy Teigen.) Even better? Cardi B put those lingering pregnancy whispers to rest with a surprise pregnancy reveal on Saturday Night Live, and we couldn't be more excited for her.
Rumors have been circulating for weeks that Cardi B was pregnant, which she finally confirmed live on SNL during a rendition of "Be Careful" on Saturday, April 7th. It was her second performance on the episode, and the reveal was totally epic. She spent her first medley of "Bodak Yellow" and "Bartier Cardi" covered up, thanks to a big feathered coat, but she changed into a form-fitting white dress to show off her baby bump for "Be Careful." Though the camera focused on Cardi B's face and shoulders at first, it slowly panned away to unveil the most adorable baby bump ever.
Honestly, we're so happy for her and her fiancé Offset, a member of the musical group Migos. The pair have been together since February 2017, and Offset proposed to Cardi B onstage during a Migos concert in October.
This is yet another reason to celebrate the artist, who overtook Taylor Swift in September to claim the No. 1 spot on the Billboard Hot 100 — making her the first female rapper to do so since Lauryn Hill in 1998.
See Cardi B reveal her baby bump for the first time on SNL here:
https://www.youtube.com/watch?v=o7f2YSz-y_8?feature=oembed
Naturally, Twitter was pretty ecstatic over the news.
false
We love seeing yet another powerful woman living her best life, doing what makes her happy. And, of course, we support her 100%. Congrats, Cardi!