The reason why Cardi B kept her pregnancy a secret makes so much sense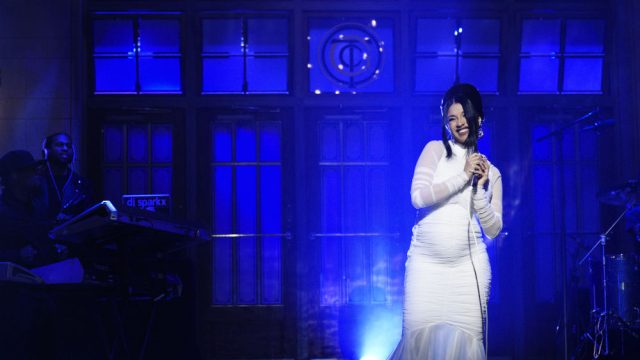 After weeks of speculation and rumors, Cardi B confirmed that she is pregnant. She broke the news on Saturday, April 7th, while performing "Be Careful" on Saturday Night Live. The announcement was fabulous and over-the-top (the way the rapper does pretty much everything): She stepped on stage in a tight white dress to reveal her adorable baby bump without having to say a word. Cardi B is expecting her first child with her fiancé, Offset, and we couldn't be happier for them.
Many fans are wondering why Cardi B kept the news quiet for as long as they did. To some, it seemed obvious what was going on, especially when she kept showing up to events in loose-fitting or voluminous dresses. But the reason Cardi B kept her pregnancy a secret actually makes sense.
Immediately after she revealed her baby bump, social media exploded with well wishes and happiness. But sadly, she also faced criticism. Many fans feel that Cardi is putting her career in jeopardy by having a baby, and a lot of people had a lot of questions. Will she still be headlining Coachella this year, or is she going to pull a Beyoncé and drop out? Is she still going on tour with Bruno Mars while she has a newborn to take care of?
Twitter was full of speculation and comments, including ones about her relationship with Offset. false
As it turns out, that's exactly why Cardi B decided to keep her pregnancy private for so long.
In a now-deleted post on her Instagram Story, Cardi wrote, "This is why i did not wanted [sic] to say nothing. People be so thirsty to scrutinize and try to destroy something that itsuppose to be a blessing."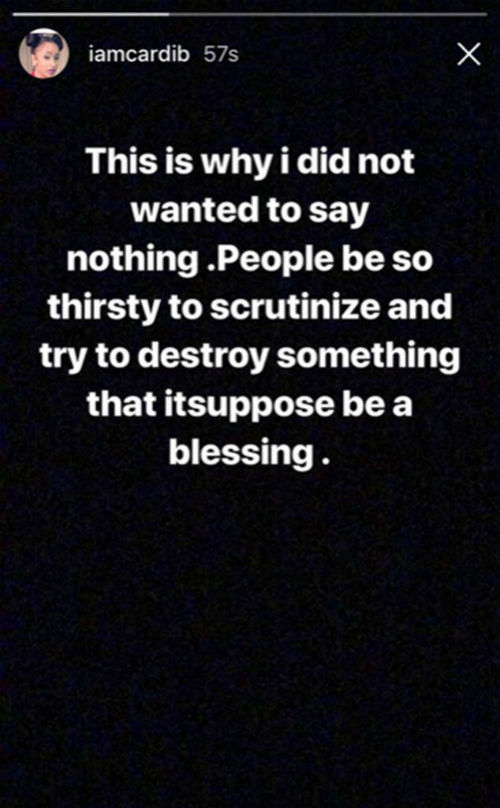 And honestly? She's right.
Cardi B and Offset have every reason to be excited about the pregnancy, and it can be hard to feel that way when you have hundreds of people putting you down and making you feel like it's something that can potentially mess up your life. And yes, it's majorly unfair for people to act like Cardi's baby is going to ruin her career. She addressed the criticism on Twitter, making it clear that nothing is going to hold her back.
Of course, there are plenty of fans who are happy for Cardi and totally on her side. A lot of people are acknowledging how sexist it is to assume that Cardi can't continue with her rapping career because of a child.
false
https://twitter.com/udfredirect/status/983006416033247235
https://twitter.com/udfredirect/status/983028764438220800
We couldn't be more excited for Cardi B and Offset as they embark on this new chapter in their lives. We're already counting down until we can see baby pictures.