Cardi B live-blogged the insane prank Offset pulled to suprise her with a Lamborghini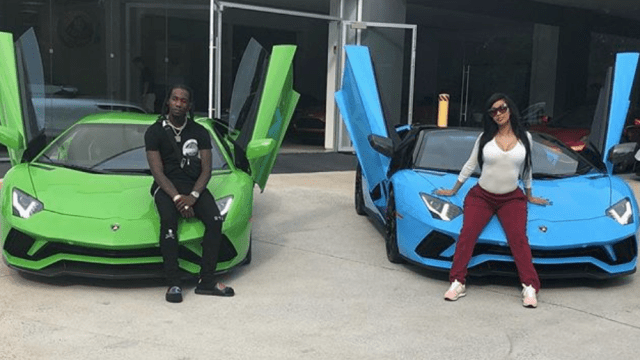 Cardi B is turning 26 on October 11th, 2018, and in anticipation of her big day, Cardi's husband Offset surprised her with a Lamborghini SUV, you know, as you do. However, he didn't just give it to her, he played a low-key cruel prank before he revealed the new car.
According to Cardi's series of Instagram videos, the two were apparently in separate time zones when Cardi got a call that Offset had fainted and she needed to rush to Atlanta right away. Naturally, Cardi started to panic.
"You all don't even know how I feel, y'all 'cause I've been praying for the last two hours to every goddamn religion that there is," she said in an Instagram video. "Why nobody answering my calls, acting funny? I don't want to raise my baby by myself. Jesus Christ, I hope everything is OK."
Then, she got to their Atlanta house, saw a Lamborghini parked in the driveway with a big red bow, and was instantly relieved and elated.
"I'm happy and mad at the same time," she captioned the video. "I been crying and praying for like 2 hours. I love you babe. Thanks for the gift. Please don't scare me again you know I suffer from anxiety."
The car appears to be a Lamborghini Urus, which is the SUV/truck crossover for badass moms.
Oh, and in case you were wondering, the couple got his and hers Lambos back in July, because, as Cardi put it at the time, "If I'm going to rap about having a Lambo, I'm going to own a mother fucking Lambo."
Cardi ended her birthday gift vlog with the scariest sentence we've ever heard out of a Lamborghini's owner mouth: "Damn! Now, I'm really going to have to learn how to drive."