Cardi B just got engaged to Offset, and her ring looks like it must weigh five pounds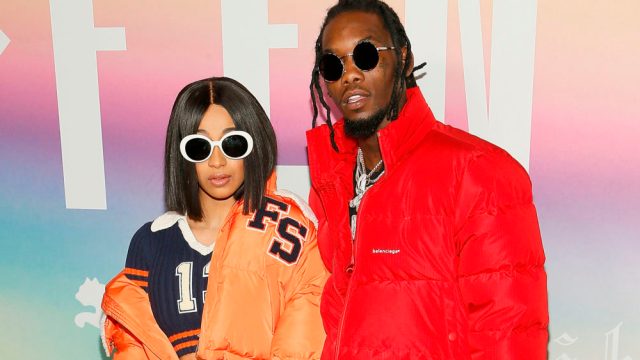 2017 will be remembered as the rise of Cardi B. Partly because we're trying to focus on the positive things, but mostly because she really is having the best year ever. The "Bodak Yellow" rapper met Beyoncé, topped the Billboard 100 chart, and last night, Cardi and her boo Offset got engaged on stage, mid-concert.
The couple recently dropped their latest collaboration "MotorSport," Migos' first single off Culture 2, also featuring Nicki Minaj. While debuting the single at Philadelphia's Power 99 Powerhouse, the rapper tapped Cardi on the arm. As she turned around, he got down on one knee, pulled out a massive engagement ring, and popped the question.
Cardi B was obviously ecstatic about the surprise proposal.
So of course she said "yes!" as Offset calmly slipped the ring on to her finger. And Cardi's reaction was possibly the most adorable thing, ever. She shuffled around giddily, smiling from ear to ear, and fanning her face out of sheer excitement. The crowd went wild with cheers of support as Cardi and new fiancé Offset shared a hug. Of course, the internet captured the moment. false
Shortly after the proposal, Offset shared a video clip of his fiancé's eight-carat diamond ring, writing, "She said yes." Cardi also shared her own photo to the 'gram, to show off her lovely new pear-shaped diamond ring and profess her love to Offset.
https://www.instagram.com/p/BaxzAjHBOgi
How enormous is that ring? Is her arm tired from holding it up?
https://www.instagram.com/p/BayOlR6BsNI
"Jesus Christ I'm so emotional, @offsetyrn I loveee you so much," Cardi wrote on Instagram. "Thank you for seeing the potential in me since you met me. For giving me advice molding me and loving me. Your such a amazing man to me your family, friends, kids and you are extremely talented. I can't wait to spend FOREVAAAA with you. Lets make a lot shmoney and love together ❤️ ❤️"
Because a couple that makes shmoney together, stays together! (That's the saying right?) And if they can get through the now-infamous "I'm single" Instagram story fight, well, we're pretty sure they can get through anything.
We couldn't be happier for the pair, and we look forward to seeing pictures from the wedding because we know it'll be Bad and Boujee. Congratulations, guys!!