Cardi B gave the cutest shoutout to her daughter Kulture on new song "Money"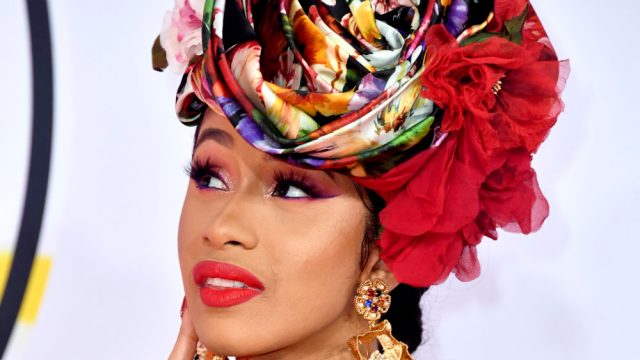 Rapping about money is kind of Cardi B's thing. Well, it's most rappers' thing because the world loves a braggadocio rap track. Cardi dropped her new single "Money" today, October 23rd, and although we've heard many rappers wax poetic about their cars and their cash and their houses, Cardi raps about all those things on "Money" plus the financial realities of raising a baby, and we're obsessed.
Cardi raps about wanting money more than wanting sex, "boarding jets," wearing "diamonds on my neck," but then she's also like, "I got a baby, I need some money" and "I need cheese for my egg," and we feel that.
In the chorus, she raps: "I was born to flex / Diamonds on my neck / I like boarding jets, I like morning sex / But nothing in this world that I like more than checks," but in the final chorus she changes the last line to "nothing in this world that I like more than Kulture." First of all, awww. But then, the last line in the song is, "all a bad bitch need is the K, K, C," which is her daughter's initials—Kulture Kiari Cephus—and her husband's, Kiari Kendrell Cephus. Double aww. false
https://twitter.com/udfredirect/status/1054793656207589379
We love how the song at first is like, "Hey, this is a braggy song about money," and then she's like, "JK, all I need in this life is my daughter." Wow, we stan a millennial mommy rapper.
You can listen to Cardi B's "Money" below:
https://www.youtube.com/watch?v=Zj2cK8wymIA?start=177&feature=oembed
This song simultaneously bangs and rattles our ovaries. What a ride.