Cardi B and Megan Thee Stallion's New Video Is Chock Full of Celeb Cameos
Some "WAP" appearances are more welcome than others.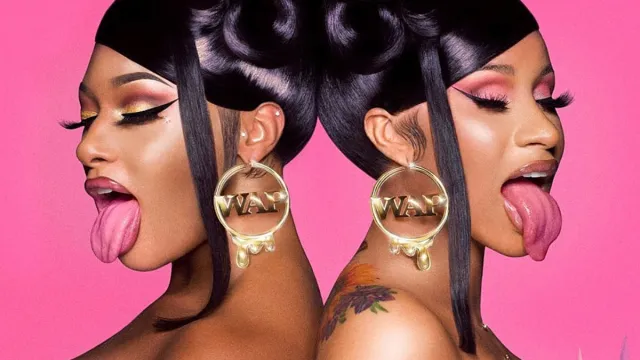 Cardi B and Megan Thee Stallion dropped their highly anticipated new single "WAP" at midnight this morning, August 7th. Along with releasing the explicit version of the song ("wet ass pussy") on Spotify, Cardi and Megan also premiered the video for the censored version of the track ("wet and gushy") on YouTube. And the video's celeb cameos are causing a major stir.
The song marks the first time the two rap stars have teamed up on a single, and Cardi explained why. "The song is really nasty. The song always been nasty," Cardi B said in a recent interview, per Hot 96.9 Boston. "My verses and the hook has been the same since before Megan was there. So it just always been a nasty song, and it's like, 'Who's saying more nastier things than Megan?'"
But in addition to those two, the video is like an I Spy for celeb cameos.
Did you catch them all? Kylie Jenner, Rosaliá, Normani, Rubi Rose, Sukihana, and Mulatto all made appearances as, uh, the "whores in this house."
Check out the "WAP" video below to see for yourself:
Though the main internet reaction to the "WAP" music video is excitement about the highly anticipated collab, many fans are a bit befuddled by Jenner's spot in the middle of the video. As writer and Black feminist icon Roxanne Gay tweeted, "No one asked for that."
Comedian and activist Franchesca Ramsey is on the same page. She actually tweeted a version of the "WAP" video in which Jenner's cameo is edited out.
The argument is that Jenner, who has been accused in the past of appropriating Black culture, shouldn't be in a video meant to champion and empower Black and Brown women. In fact, fans actually started a Change.org petition to remove Jenner's segment from the video altogether.
In an interview with Apple Music, Cardi B explained why she chose the women she did to appear in "WAP."
"I wanted a lot of different females, not just female rappers," Cardi said. "I wanted…a lot of different people..from models to influencers and everything. And I really wanted the video to be very sexy, very clean, very nice, very cut. All right, we need some female artists, rappers. And I'm like, 'These are the girls that I personally like. That I like they music. That I really feel they are going to go mainstream, to me.'"
Including Jenner was a choice, but let's not let it detract from Cardi B and Megan Thee Stallion's collab, which is giving us so much (including some incredible lyrics).