Cardi B heard Kulture say "mama" for the first time, and it was her biggest Grammy night win of all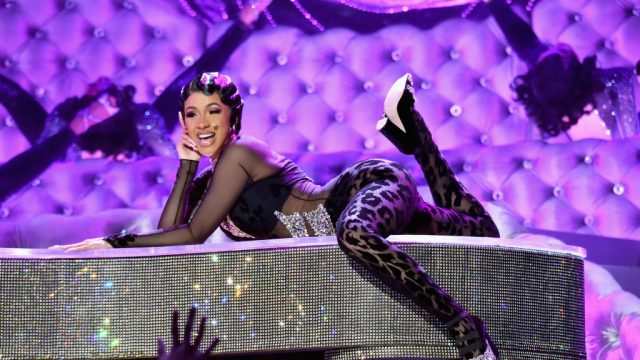 Cardi B had a big night at the 2019 Grammys. First, she walked the Grammys red carpet looking flawless in a vintage Thierry Mugler dress and donned a beehive wig wrapped in pearls. Then, she took to the stage to perform "Money," a single off her album Invasion of Privacy. Oh, and let's not forget that she won her first Grammy—and made history in the process. Cardi B nabbed the statue for Best Rap Album, making her the first solo woman to win the honor. So, yes, it was definitely a night to remember.
But despite all of those epic moments, the best was yet to come for Cardi. After the Grammys were over, she experienced something arguably better than any couture gown, performance, or award: Her daughter Kulture said "mama" for the first time. Fortunately for us, Cardi captured the sweet moment and shared it on Instagram for all to see. After Kulture whispers "mama," Cardi pans the camera back to herself, and she's full-on crying. Honestly, same.
"After a week of only saying papa! She saying mama! Happy 7 months Kulture! We love you," Cardi captioned the video.
Cardi's reaction to Kulture is priceless:
Like we said, Cardi had an unmatchable night at the 2019 Grammys. Just a few hours before sharing Kulture's latest adorable development, she took to Instagram to thank everyone for their love and support.
We have a feeling Cardi is going to do big things this year. Kulture, too. Next up: her first steps. Film it all, Cardi! We obviously can't get enough Kulture content.