Cardi B's legendary hair moments, from vintage-inspired updos to fiery red ponytails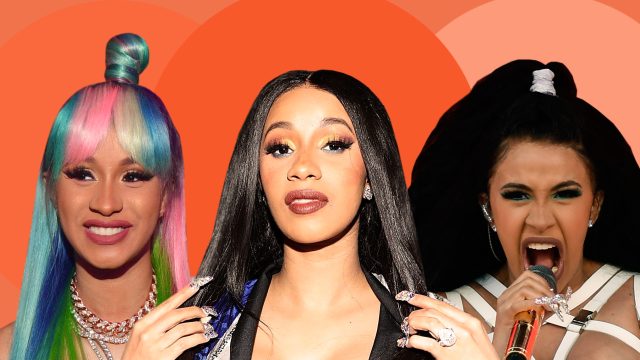 Since her start as an Instagram comedian and social media personality, Cardi B hasn't been afraid to experiment with her beauty looks. More specifically, her hair is constantly evolving, and we love that she always keeps us on our toes with new hairstyles.
With the help of celebrity hairstylists such as Tokyo Stylez (@tokyostylez), Tony Medina (@hisvintagetouch), and Hair By Fran (@hairbyFran), Cardi B has brought her colorful personality to life through her various hairdos. Whether she's rocking a short bob, a vintage-inspired updo, or long red hair, the singer/rapper sure knows how to "kill a weave and rock a lace." (Her words from the song "No Limit.")
We rounded up Cardi's most iconic hair moments through the years because we just can't get enough.
1"Be Careful" music video
https://www.instagram.com/p/BjDLz96DD5I
In the music video for her chart-topping single "Be Careful," Cardi walked into her husband's funeral (it was part of the video's storyline) wearing an all-black ensemble. But aside from her fierce outfit, we couldn't help but swoon over her fiery red ponytail. From the exaggerated chain links to the metal trinkets, her ponytail was head-turning.
2Cardi B's rainbow-colored hair
Even seven months pregnant, Cardi continued to experiment with her hair color and style. This rainbow number was out of the box, but the singer rocked it well. And in true Cardi B fashion, she added her own twist to it, literally. The top knot gave the hairstyle a more effortless feel.
3Her Coachella hairstyle
During her 2018 Coachella performance, the rapper rocked a Left Eye-inspired hairdo. The bangs with the two pigtails? We're dying. She gave us total '90s vibes.
4Serving blonde bombshell
https://www.instagram.com/p/BfUv06egJI1
Any time the Bronx native goes blonde, she looks absolutely stunning. If Cardi had to choose a color to rock for the rest of her life, this platinum blonde hair color would do her much justice.
5Cardi's fiery red hair
Every now and again the "Bodak Yellow" rapper opts for bright red hair, and it definitely matches her "red bottom, bloody shoes." This color is a hit every time.
6The singer's Cinderella moment at the 2018 Grammys
Cardi's 2018 Grammys hair was straight out of a fairy tale, and it matched her angelic Ashi Studio-designed gown. She definitely knows how to work an updo.
7The iconic "Bartier Cardi" hair
This vintage-inspired blonde 'do for the "Bartier Cardi" music video was proof that the rapper could pull off any hairstyle and color, especially one from another era.
8Cardi's blonde pixie
Just when you thought Cardi couldn't look any better as a blonde, she rocked a blonde pixie cut for The Tonight Show Starring Jimmy Fallon. This head-to-toe '90s Linda Evangelista-inspired look was EVERYTHING.
9Her pin-up 'do
https://www.instagram.com/p/BhIp-tOAaDQ
It's evident that Cardi loves a vintage-inspired updo, and so do we. We're loving the sexy pin-up girl vibes.
10The rapper's TLC-inspired hair
https://www.instagram.com/p/BP3ONmnjfQT
Once again, Cardi channeled the '90s group with this T-Boz-inspired hairdo. The rapper's slightly blue hair color added a modern twist to the throwback style.
11Her 2017 BET Awards hairstyle
Wearing a blonde, blunt bob, the "Be Careful" singer killed it the 2017 BET Awards with her bold cut and powerful red pantsuit.
12Her ash blonde hair color
Ash blonde has been a popular hair color these days and with these voluminous waves, Cardi showed us how it's done. We also love that her hair kind of matched her black and silver-chained outfit.
13Cardi's blue pixie
https://www.instagram.com/p/Bg4Spv3AmcP
Everything Tokyo Stylez touches is magic, but when he does Cardi's hair, it's magic times 10. Not many people can pull off a blue, slicked-back pixie, but the rapper sure can. We love that the singer isn't afraid to play with color.
14Her unique high ponytail
https://www.instagram.com/p/BZ9EGQugNxi
Cardi always stays true to her N.Y.C. roots, and we loved her urban-chic high ponytail. From her baby hairs to the dramatic waist-length pony to the twisted braids, the rapper shows us how to rock a ponytail that's far from basic.
15Retro hairdo on the cover of Rolling Stone
Cardi B admitted that she was born in the wrong era, adding that vintage hairstyles are totally her thing. We couldn't agree more. Her hairstyle for the cover of the June 2018 issue of Rolling Stone is proof.
16The Invasion of Privacy album cover
https://www.instagram.com/p/BgzsBAXAAv8
We can't talk about Cardi B's iconic hairstyles without highlighting her neon, yellow finger-waves that she sported on her debut album Invasion of Privacy.
17The glam pregnancy photo
Cardi released stunning pregnancy photos of herself when she announced the birth of her baby girl Kulture. As if the news wasn't big enough, her Diana Ross-esque 'fro made a huge statement as well. Someone bring out the diva fan.
18The Bronx fairy tale baby shower updo
Cardi had the most beautiful baby shower. It was a Bronx fairy tale, and her posh bun and side-swept bangs were just as stunning.
19Cardi's "Edna Mode" hair moment
The singer joked on Twitter that she looked similar to the Edna from the Incredibles. We must admit that she is just as chic and high-fashion as the Pixar dynamo.
20Her hair in the "Dinero" music video
Cardi served us old-Hollywood glamour and old-money vibes in the "Dinero" music video. We were living for the big, fluffy curls and her long bob.
21 2018 Met Gala hairstyle and head-piece
https://www.instagram.com/p/Bif9BTsgXr8
How could we not include Cardi's unforgettable beauty moment at the 2018 Met Gala? Her hair was angelic and that head-piece has us drooling.
22The SNL performance
All eyes were on Cardi as she revealed that she was pregnant during her SNL performance. However, it was hard to not notice her ethereal updo and long front bangs. The style really brought her entire look together.
23Cardi's ultra-glam retro hairstyle
Once again, Cardi stunned in a vintage hairdo. She was styled by Tony Medina, and we're loving that she played up the retro theme by adding black satin gloves and tiny sunglasses to her ensemble.