Female hip-hop legends are celebrating Cardi B's historic Grammys win, and this is #womensupportingwomen at its finest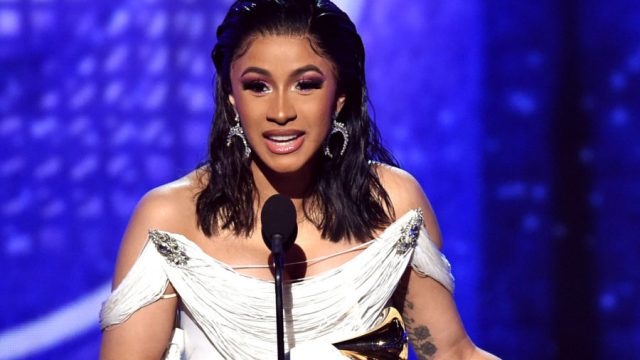 Cardi B made herstory at the 2019 Grammys on February 10th, becoming the first female solo artist to take home the Best Rap Album award for her debut disc, Invasion of Privacy. In a beautiful show of sisterly love, some of the biggest names in hip-hop have been praising the "Bodak Yellow" rapper on social media today, celebrating Cardi's win. Cardi was the only female artist nominated in the category, which included Mac Miller (Swimming), Travis Scott (Astroworld), Pusha T (Daytona), and Nipsey Hussle (Victory Lap).
Following her emotional acceptance speech, Cardi took to Instagram on February 11th to share screenshots of the congratulatory messages from fellow hip-hop legends, including Missy Elliot and Lil' Kim. She captioned the post, "Thank you ladies for your support and love .Before Bodal Yellow I met these women and they always been supportive of me!" (She has since deleted her IG account.)
Basically, the entire ordeal is #womensupportingwomen at its finest, OKURR.
The "I Like It" rapper also shared praise from artists such as Chance the Rapper, J. Cole, and Plies on her page. Following her win at the ceremony, Cardi thanked fellow nominee Miller, who died in September 2018 from an accidental overdose.
In a video post-win, Cardi said, "I read an article that Mac Miller's family said that if he don't win, they want me to win so I'm sharing this Grammy with you motherf—er. Rest in peace."
Congratulations, Cardi!