Everything we know about Cardi B's fiancé — including how they met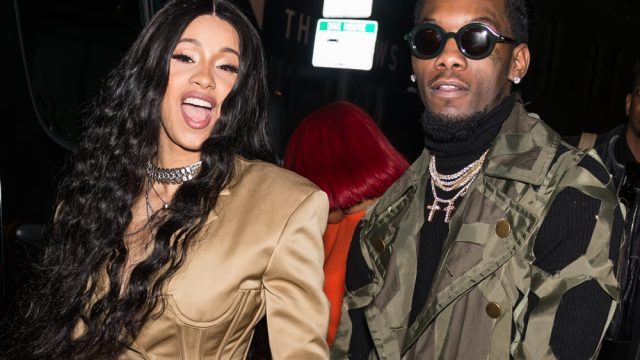 The rap star has been making waves around the world with her music, and Cardi B has specifically been making headlines this week following her epic iHeartRadio acceptance speech for Best New Artist. There have also been recent (unconfirmed) rumors that she's pregnant, though neither Cardi nor her reps have confirmed it (which we 100% respect. Everyone deserves their privacy — even celebs).
However, all this chatter is leading to a lot of curiosity about Cardi B's love life — especially regarding her fiancé, the rapper Offset. If you're one of those curious people, we've got you covered. Here's everything we know about Offset and his romance with Cardi:
Offset's real name is Kiari Kendrell Cephus.
Offset, who is best known as a member of the musical group Migos, alongside Takeoff and Quavo, is a 25-year-old rapper from Lawrenceville, Georgia. All three members are related and were raised together by Quavo's mother. Quavo is Takeoff's uncle, and Offset and Quavo are cousins.
The name Migos has a significant meaning.
Not only is it the shortened version of "amigos" ("friend" in Spanish), but it also describes the drug trade in Georgia. "It's actually the hub of drugs out there," Migos explained in an interview with Hot 97.
Migos initially gained notable recognition after the release of their 2013 single, "Versace."
https://www.youtube.com/watch?v=rF-hq_CHNH0?feature=oembed
Offset and Cardi started dating in February 2017.
According to Cardi's recent Rolling Stone profile, she and Offset have been together since they ran into one another in February 2017 while in New York. Though it's still unclear how and when they first crossed paths, it was likely sometime in late 2016 at an industry event.
https://twitter.com/udfredirect/status/935824814165692416
Cardi and Offset collaborated on her song "Lick".
https://www.youtube.com/watch?v=FppfHaT6wDc?feature=oembed
They went on their first public date to the 2017 Super Bowl.
The couple were first seen holding hands in public at the Super Bowl. In a Rolling Stone story on Migos, Offset revealed he made it his mission to make a great first impression on Cardi the first time they went out — hence, taking her to the big game. "That's a power move!" he told the magazine.
The two made things Instagram official on Valentine's Day 2017.
In a video taken from their Super Bowl date, Cardi refers to Offset as her "babe," which is when fans knew for sure the two were definitely a thing.
https://www.instagram.com/p/BQfypPthHLd
Cardi B and Offset got engaged onstage at a Migos show in October 2017.
Offset got down on one knee and asked for Cardi's hand in marriage during a Migos concert in Philadelphia. She said yes (the diamond is HUGE).
https://www.youtube.com/watch?v=RZv1RbeyZfE?feature=oembed
Offset showed his commitment to Cardi with some new ink.
He got the "Cardi B" logo tattooed on his neck earlier this year.
Cardi B and Offset certainly seem like the couple to watch.