Cardi B's Fashion Nova line has an official release date AND a sneak peek video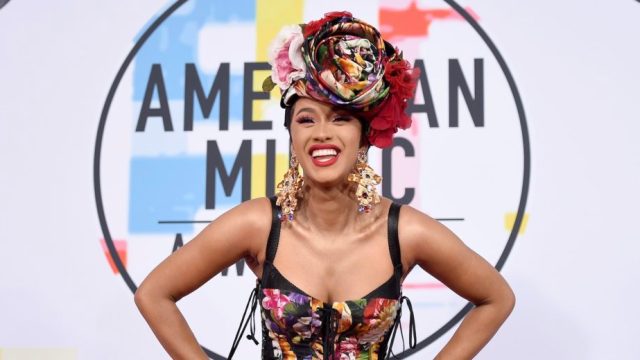 It's no secret that we all just wanna party like Cardi, and pretty soon, we actually can. Cardi B's collaboration with Fashion Nova is officially happening, and it's happening soon.
The rapper is a longtime fan of the wallet-friendly brand, and a collaboration has been rumored to be in the works since April. And now, Cardi has officially announced that the line will drop on November 15th, just in time for the holidays.
Cardi designed the line with Kollin Carter, who usually styles her for music videos and red carpet events. According to Business of Fashion, the line will have a whopping 80 looks in sizes ranging from junior to plus, at an average price point of around $40. It will consist of suits, blouses, dresses, outerwear, denim, knitwear, and accessories, with Cardi telling BoF she had one clear goal in mind when working with Fashion Nova:
"I want to make these women look so happy—so radiant, sexy, so corporate and poppin'. I want them to look like they're wearing Gucci and Prada, but they're not, they're wearing my line."
Cardi explained that she was inspired by the same woes we all experience when trying clothes on—finding things that fit well and don't cost a fortune.
"Sometimes, designers don't have what I'm looking for," she said. "Designers don't make jeans that fit me. I have a big butt, and they seem not to fit me. The only jeans that fit me would be like Fashion Nova jeans. That's how I balance it out. I don't care if it cost $20 or $15. If it looks good on me, it looks good on me. I can style it up."
In a promo video announcing the collab, Cardi said shoppers will look "rich and affordable," and that she was inspired by her love of "old fashioned" '60s looks and more modern-day "hip" street style.
https://www.instagram.com/p/BphqfHrALEr
Again, Cardi B x Fashion Nova launches on November 15th (and Cardi will be celebrating by dropping a brand new single). We recommend you have your game-faces on come launch date, because this collection is sure to sell out faster than you can say "okurrrrr."