Cardi B wore a $5 million necklace to the Grammys, nbd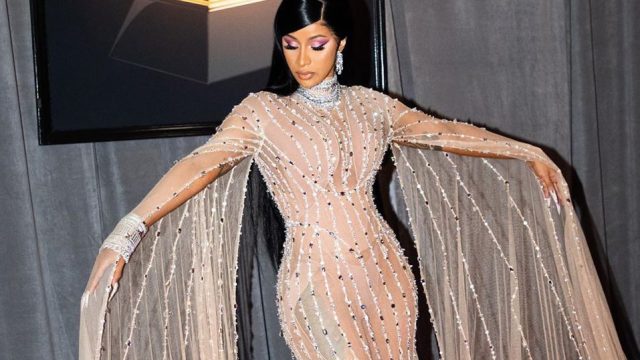 Cardi B is always one to bring her A-game and stun us on the red carpet, but she really took it up a notch at the 2020 Grammy Awards. The "Bodak Yellow" singer showed up wearing a two-part necklace featuring over 310 carats of white diamonds aptly named the "Goddess" necklace. Yes, you read the right. The woman whose "Money" lyrics read, "I was born to flex/Diamonds on my neck" wasn't kidding about her flexing style—it's priced at over $5 million for retail.
The making of the Goddess was a collaboration between Mugler Creative Director, Casey Cadwallader, stylist Kollin Carter, and the Gismondi 1754 team of jewelers. First, Carter was shown a series of single-strand necklaces and chokers, and after several meetings, each of the eight strands was selected by Carter and approved by the Mugler team.
"We are proud Gismondi 1754 has been a part of two iconic looks for the Grammys [2019 and 2020] collaborating with Kollin Carter and his team for Cardi B with the House of Mugler," said Massimo Gismondi, CEO of Gismondi 1754."Their collaborations are so dynamic and forward-thinking, pushing the boundaries of red carpet fashion and taking interpretive fantasy to a level of epic entertainment and glamour for the world to enjoy."
BRB, need to clean up our drool.