Cardi B is calling out celebrities for spreading confusion about coronavirus—here's why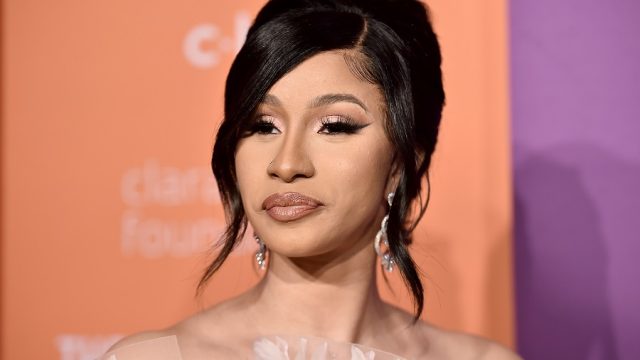 On March 24th, Cardi B took to Instagram to air her grievances about the current state of the coronavirus (COVID-19) pandemic. Donning a face mask and sunglasses, the rapper posted a four-minute video explaining how she's disappointed in her fellow celebrities for bucking CDC guidelines for priority testing simply because they can afford to take the test.
Cardi began her video by stating that she feels that celebrities who have gotten tested despite having minimal symptoms—or no symptoms of the virus at all—have only heightened public confusion.
"If Number 45 is getting on a podium saying, 'Hey listen, if you do not have any symptoms of the coronavirus—which is coughing, fever, whatsoever, et cetera, et cetera—do not get tested because we don't have enough testing to test everybody,'" she explained, speaking about the president. "But if a celebrity is saying, 'I don't have symptoms, I'm feeling good, I feel healthy…but I went and got tested and I'm positive for the coronavirus,' that causes confusion."
She continued, "That makes people be like, 'Well, wait a minute, now. I don't have no symptoms, but I know I went out this and that day. Shit I might just have it…'"
According to the CDC's "Priorities For Testing Patients With Suspected COVID-19 Symptoms" document, top-priority patients are those who are already hospitalized or those who are currently working within the U.S. healthcare system. The next level of priority includes patients over the age of 65, first responders, or those with underlying health conditions. Finally, third-priority patients are those experiencing symptoms that live in communities with a large amount of COVID-19 cases.
People who show no symptoms and simply wish to be tested are listed as "non-priority" patients.
So, as Cardi B wonders, why are asymptomatic celebrities getting tested? "The general public, people that work regular jobs, people that get regular paychecks, the middle class…they're not getting treated like the ones up here—the celebrities."
"A lot of celebrities have the luxury to pay $34,000…to get tested and get treated," she continued.
Although the test was just made free by law, treatment and hospitalization could cost upward of $20,000, according to the New York Times.
"A lot of these people don't have that money. Some people don't even have enough money to afford healthcare," Cardi B said.
Though it's frustrating that we are struggling with a shortage of testing supplies, and it's clear that some potential patients are being favored by our current system, it's important to follow CDC and your state's rules and guidelines to stop the spread of coronavirus within our communities.
As information about the coronavirus pandemic rapidly changes, HelloGiggles is committed to providing accurate and helpful coverage to our readers. As such, some of the information in this story may have changed after publication. For the latest on COVID-19, we encourage you to use online resources from CDC, WHO, and local public health departments, and visit our coronavirus hub.