Cardi B Called Out Wiz Khalifa for Pitting Her Against Nicki Minaj
She's done with people "entertaining tweets that pit successful women against each other."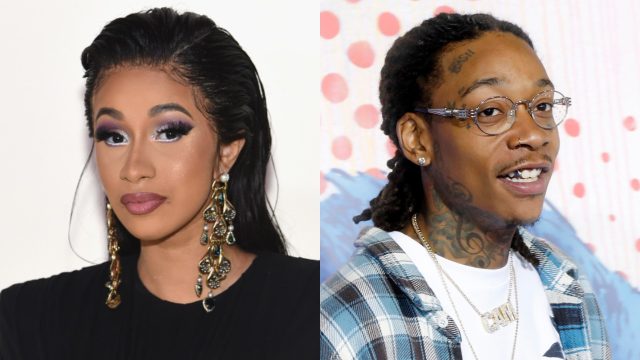 When the 2021 Grammy Awards nominations dropped yesterday, November 24th, two camps formed, as is tradition. One camp was pleased with the nominations list and how diverse it is this year (many categories are women-dominated, for instance). However, the other camp, in which stars like The Weeknd, Justin Bieber, and Nicki Minaj reside, believe the Grammys are corrupt—and Wiz Khalifa made the mistake of subtweeting Cardi B and using her as an example for why certain artists (like Minaj, who tweeted about being snubbed when she had seven songs "simultaneously charting on Billboard") are overlooked come Grammys season.
As a grammy nominated artist I know how it feels, Khalifa tweeted yesterday in response to artists' snub claims. N—s always think its unfair until they get their turn. Just keep workin and that time'll come through.
He continued to have a dialogue with fans and followers about how the Grammys is a political organization, tweeting, "If you don't show up to their parties they don't throw your name around," adding that "lots of amazing artists" have yet to be nominated for a Grammy, and, "As a hustler you work harder when you don't."
But when one fan tweeted at him, "cardi wining a Grammy when nicki minaj didn't is the biggest proof that they don't know a shit bout music," Wiz Khalifa provided his two cents in a somewhat shady subtweet.
Most self made artists have this problem, he said, inferring that Cardi B, who won the Grammy for Best Rap Album in 2019, is somehow not self made.
Minutes after being made aware of Khalifa's comment, Cardi B clapped back and brought receipts to the table. She posted a photo of a supportive direct message Khalifa sent her in 2016 when she was "grinding at the bottom," adding, "then it's a different story when you make it!"
She followed up in another tweet stating she doesn't understand why Khalifa, and others in the industry and beyond, entertain tweets that pit successful women against each other.
"Ya not tired of that? Specifically when ya was rooting hard when a bitch was at the bottom," she wrote.
Because Khalifa didn't call out Cardi B directly, he took her clapback in stride, quote tweeting her initial post and writing, "Damn that wuz good advice. I still support u…Your self made in my book as well."
He later backtracked saying people put words in his mouth—"Never said that." He then tweeted, "I just don't want a Cardi/ Wiz war goin on for no reason."
Though Khalifa's intention in his first controversial tweet is cloudy, Cardi B has a really good point—pitting successful women against each other, especially in the world of rap and hip-hop, is a tired trope. And we don't know if it will ever happen due to Cardi and Minaj's history, but this fan summed up a possible solution perfectly:
Lol…but TBH, we'd love to see it.