Cardi B had a "Bronx Fairy Tale"-themed baby shower, and the decorations were so on point
We don't know about you, but we can hardly contain our excitement for Cardi B as she prepares to welcome her first baby into the world. It's been a whirlwind pregnancy, with new music releases, performances, and even a secret marriage to Offset last fall. We're dizzy just thinking about it.
The soon-to-be mama managed to carve out time for her closest family and friends to celebrate Baby B with a baby shower in Atlanta on June 26th. But it was no ordinary party.
Vogue.com shared exclusive details on the luxe soirée, which event planner Karleen Roy envisioned as "a magical and imaginary Bronx land fit for the quintessential baby girl." It included pink replicas of NYC subway cars, street signs, and even pink garbage cans.
Cardi made it clear she didn't want a traditional baby shower, telling Rolling Stone, "I want a lit baby shower. My baby shower's not starting at no 5:00. My sh*t is going to start at 9 p.m. because that's how I celebrate, that's how Caribbean people celebrate."
While we have no idea what time the party went down, we do know it was nothing short of magical, featuring more than 26,000 pink and white flowers, floral animals, and elaborate balloon displays featuring pink, white, and gold balloons.
In true New York City fashion, the shower featured a "Bardi Baby Bodega" with diapers wrapped in pink ribbon instead of deli sandwiches and snacks, and the "Bardi Baby Book Library," featuring classic Latina and African-American children's books.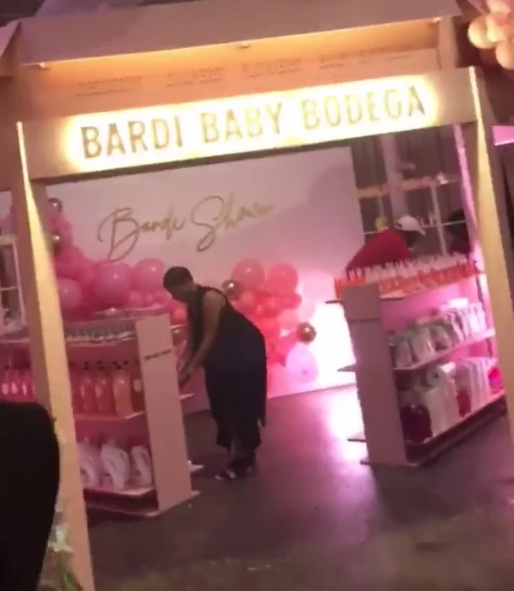 Guests enjoyed soul food in honor of Cardi's heritage, as well as a five-tiered cake featuring each one of Cardi's favorite flavors, including Dominican pineapple, strawberry, red velvet, chocolate ganache, and honey bun.
Aside from a DJ, guests also saw performances by Orchestra Noir, a hip hop orchestra group, and the Ballethnic dance company, before heading home with custom purple baby blankets (much like the blanket with Cardi's face on it that she wore to the airport).
https://www.instagram.com/p/Bki1pLGH3Gi
We're so excited for these two and can't wait to meet Baby Bardi.