Sorry Swifties, but Cardi B just broke Taylor Swift's Apple Music record — *twice*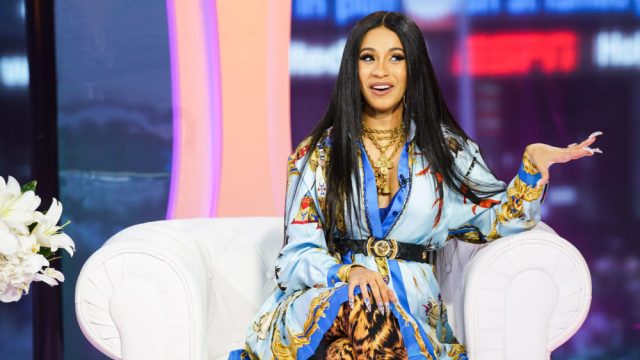 After months of public anticipation, Cardi B finally released her debut album, Invasion of Privacy, on April 6, 2018. It's only been out for a week, but it's already broken some seriously huge records. And sorry Swifties, but that means she's beaten your girl too — at least on Apple Music.
As reported by People, Invasion of Privacy already boasts 100 million streams on Apple Music, and has broken the platform's record for most first-week plays earned by a female artist. It has also become the platform's fifth most streamed album of all time. Taylor Swift previously held the record for most streams on Apple Music for her reputation album, and Cardi's streams are more than double Swift's record.
There's no doubt that this is really impressive, but as People points out, it's worth mentioning that reputation did not become available on Apple Music until three weeks after its initial release. That means that people had three full weeks to find other ways to download and obtain reputation, which definitely makes a difference.
Still, Cardi B is thrilled with the news, as she should be!
So, will there be any bad blood (hehe, sorry, couldn't help myself) between Swift and Cardi? That's seriously doubtful. Back when Cardi's "Bodak Yellow" took the number one spot from Swift's "Look What You Made Me Do," Swift sent flowers to Cardi.
https://www.instagram.com/p/BZhVxNZhlo_
Cardi should definitely feel proud of her accomplishments. Debut albums don't typically set streaming records like this, and for a relative newbie in the music industry to beat Swift? That's pretty huge. We can't wait to see what she comes out with next!