Cardi B revealed how much she spends on her beauty routine, and it's about the same price as rent
When it comes to affordable fashion and makeup, Cardi B is the first to admit you don't have to drop major coin to look good. At the 2018 AMAs, she wore a full-face of drugstore makeup on the red carpet. Let's not forget that during her glam pregnancy photoshoot she used $10 foundation and $6 concealer. And when it comes to style, we all know she loves her Fashion Nova.
However, just because Cardi likes to "ball on a budget" (as she says), that doesn't mean she only shops for inexpensive products. In fact, the rapper revealed on Instagram how much she spends on her beauty routine. The cost? It's almost a month's worth of rent if you live in L.A.
While on her way to perform at the 2018 KIIS FM Jingle Ball, the "I Like It" singer kept it 100 when she broke down the cost of her beauty routine. But before she got into the nitty-gritty, she said, "Let me tell y'all motherfuckas somethin'. It's getting more and more expensive to maintain as women. This is not the early 2000s, where you give a bitch a $100 to get her hair done, nails done, eyebrows, and whatever. Nah!"
In fact, Cardi's ornate nails can run her up to $200. "Bitches is not getting $17 full sets with three free nail designs. Some hoes like me want Swarovski crystals," she said. "That about there is about $200 for feet and nails." Her hair, on the other hand, is where she drops major dough. Because, as she puts it, we are not in the "era where bitches do the blowouts and sew-ins." The rapper wants the whole, full-lace wig.
"The wig is about $800, $500 dollars; it depends where you get it from. The styling is about $200 or $300, so just on that is a thousand dollars."
Cardi B at the 2018 KIIS FM Jingle Ball, the night she revealed her beauty routine cost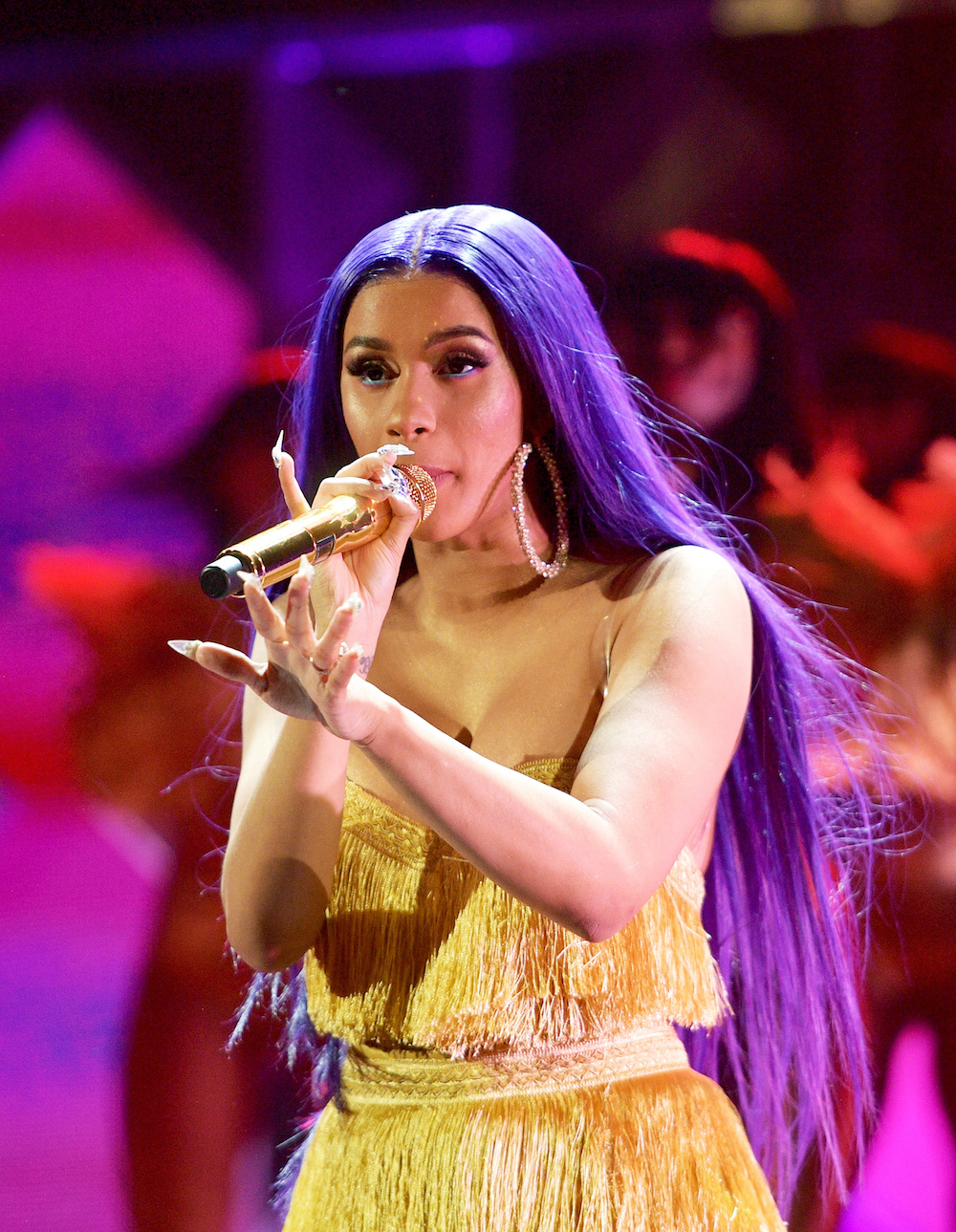 So now you know that being Cardi B comes with a hefty price tag. She may skimp on certain things, but when it comes to her hair and nails, you won't see her rocking the cheap stuff.