Cardi B says her fiancé Offset came up with their baby's "tricky" name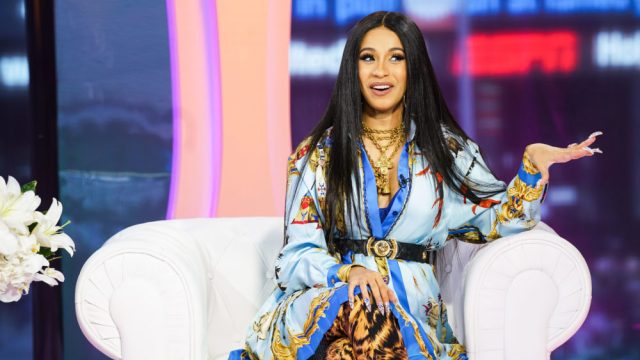 Cardi B already has a name picked out for her baby, and she revealed that her fiancé Offset is the one who initially suggested it.
As Cardi B fans will recall, rumors were swirling about a potential Cardi B pregnancy, and Cardi B announced it to the world by showcasing her baby bump during her April 7th appearance on Saturday Night Live. "I was nervous for my second performance," she admitted to DeGeneres on the April 19th episode. "For my first performance, I was like, 'Eh! Party with Cardi! Ooh!' And then in my second one, I don't know — I was sweaty. My underarms started itching a little bit because it's like, 'Oh, my God! The world gon' know I'm pregnant! Oh! Here we go! Opinions! Coming!"
Cardi B was performing her song "Be Careful" when the reveal happened. She also noted that her Coachella performance, which included a ton of twerking, is her showing the world "how I got pregnant in the first place." LOL.
DeGeneres, who's big on baby names, had no problem asking Cardi if she has a name picked out yet…and turns out she does.
"My dude (Offset) named the baby," she said with a smile.
However, that doesn't mean Cardi was ready to spill the tea on the baby's name just yet. "Imma let him say the name since he named the baby." She also provided the following hint: "It's, like, almost tricky but when it comes out, it's like, 'Ahh!'"
Hmmm, "tricky," huh? We're officially intrigued!
https://www.youtube.com/watch?v=7Z7xbelZI_Y?feature=oembed
While Cardi B has yet to confirm whether or not she's having a boy or a girl, many people are speculating it's a girl — all thanks to a message that her younger sister, Hennessy Carolina, posted on social media. The since edited message originally said, "I'm passing my daughter crown down hehehehe."
No matter what, we know the baby is going to have one of the most awesome moms imaginable.