Cardi B revealed the cover and release date for her new album, and try to stay calm, people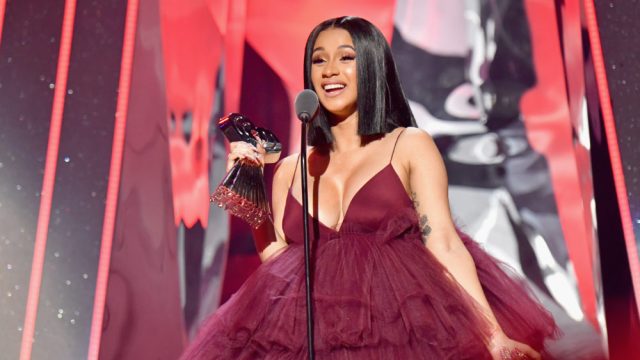 We've been patiently waiting for Cardi B to release her debut studio album, because she's been a staple on our playlists ever since she released "Bodak Yellow" last year. And at long last, her album is coming. Cardi just blessed us with the album's title, release date, and cover image — and it'll be here so soon.
Cardi B's album is dropping Friday, April 6th. We knew it was coming in April after she said so in her iHeartRadio Awards acceptance speech last month, telling fans to "stay tuned." And last night on her social media accounts, Cardi revealed not only that it's coming next week, but that the album is called Invasion of Privacy.
Cardi is serving early '90s realness on the cover, donning an oversized black and white checkered blazer (yep, shoulder pads and all!) and retro black and white shades. She looks fierce AF in a bright yellow wig and a bold purple lip, so we know this is gonna be epic.
Invasion of Privacy feels like the perfect name for her debut. The singer has spoken about her experiences with fame and her frustration over fans feeling entitled to know everything about her personal life. She recently opened up to Cosmopolitan.comabout the personal pressure she felt when rumors surfaced about her relationship with her fiancé, Offset. She noted that though she's happy with where her career is going, she finds the public side of success tough.
"I don't want to sound like I'm ungrateful, but it's exhausting," she said. "I love my career now, but it's like my spirit was happier before. When I was dancing, I had so much fun. I felt powerful in the club. I felt free."
https://www.instagram.com/p/Bdz0wADhZWM
While we hope that Cardi begins to feel more balanced amidst the craziness of her current life situation, we also can't wait to hear all the music she has in store for us. And thankfully, we don't have to wait long.