Cara Delevingne opens up about how and why she dealt with suicidal thoughts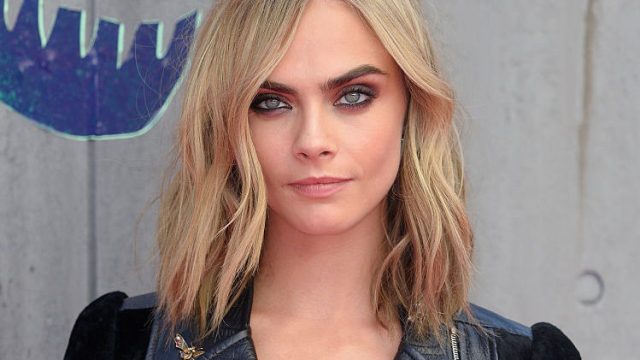 Everything about Cara Delevingne seems effortless – from her silly faces, to her confident fashion choices, to her "I woke up like this" 'do. But things haven't always easy for the model/actress—especially considering that she's long coped with depression.
In a new interview with Esquire UK, Cara opens up about her history with mental illness:
"I think I properly started dealing with depression when I was about 16 … When it got to being a teenager and all the hormones and the pressure and wanting to do well at school — for my parents, not for me — I had a mental breakdown."
Delevingne's mother, Pandora, battled addictions to heroin and prescription drugs throughout her daughter's childhood. As a child, though, Delevingne couldn't understand why her mom was so often sick or away from home. When she finally put the pieces together, around age 16, depression hit her—hard.
"I was suicidal," she says. "I couldn't deal with it any more. I realized how lucky and privileged I was, but all I wanted to do was die … I would run off to the woods and smoke a pack of cigarettes and then I would smash my head so hard into a tree because I just wanted to knock myself out."
Cara soon went on medication to help temper her emotions and it assisted her in some ways, but she also felt dulled, lifeless.
So at 18 she decided to stop taking it, cold turkey. "And that week, I lost my virginity, I got into fights, I cried, I laughed. It was the best thing in the world to feel things again," Cara stated, adding the following based on her own personal experience: "And I get depressed still but I would rather learn to figure it out myself rather [than] be dependent on meds, ever."
Delevingne still battles depression, which she demonstrated when sharing a poem about her darkest days during an interview with Rupert Everett last year:
https://www.youtube.com/watch?v=umlJgWK_Xxo?feature=oembed
During that conversation, Cara also offered a message to other young women who might be feeling depressed or suicidal:
"You're not alone. You're not an alien. My message has always been to accept yourself no matter what, to love yourself, to embrace your flaws."
If you're experiencing feelings of depression or suicidal thoughts, reach out to a friend or family member. You can also call the National Suicide Prevention Lifeline at 1-800-273-8255.