Cara Delevingne's firework hairpiece almost looks like a tattoo
As a cut that's easier to deal with in the humidity and heat, short hair is the ultimate summer accessory. But if you have short hair, then you're aware that you have myriad ways to wear your style on your scalp — which can be a bit overwhelming, to say the least. To help, let us suggest rocking your cut à la Cara Delevingne.
The model wore a firework hairpiece that looks almost like a tattoo, proving that Americana glam can be worn year-round, not just on Independence Day.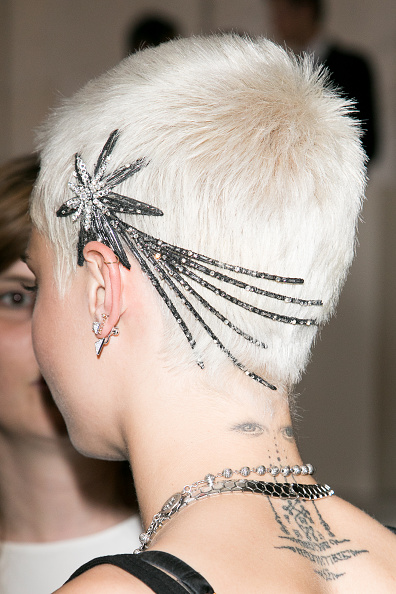 The silver hairpiece looks like the older sister of the headband, and adds some extra glamour to the side of Cara's peroxide-blonde buzz. This is the sort of piece we can imagine in The Great Gatsby because it's perfectly fit for that era.Plus, whether you're pairing it with a black fringe dress or something bold and bright, this accessory is sure to stand out from the crowd.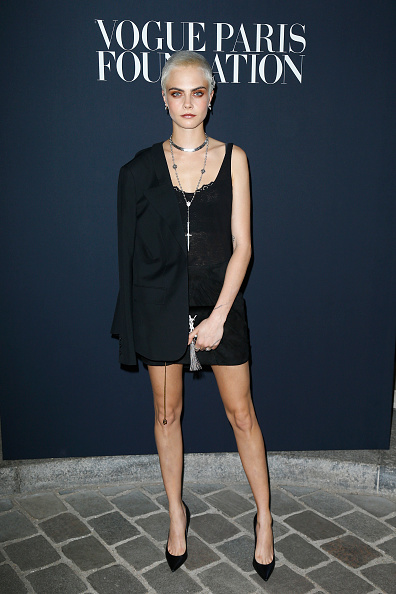 Cara opted for an inky black frock, black pumps, and a black jacket she wore off of one shoulder.
The model and actress wore the ensemble with silver necklaces and her matching headpiece, which acted as a surprise pop of glitter for her look. Coupled with eyes rimmed in red shadow and a metallic lip, Cara looks (quite literally) like the lovechild of the sun and the moon.
Ultimately, with stars in her hair, this Cara Delevingne ensemble is simply out of this world.