Fans think Cara Delevingne and Ashley Benson finally confirmed their relationship via Instagram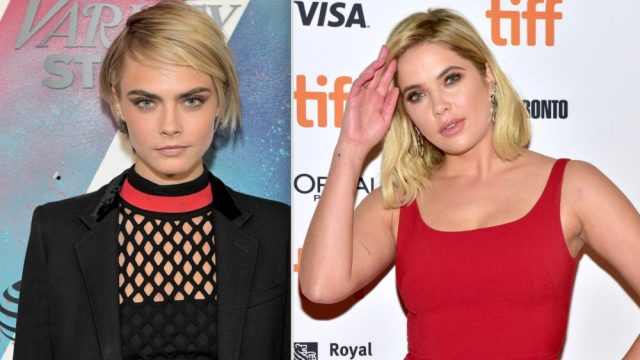 Thanks to social media, celebrities now have the power to subtly announce new relationships with the click of a button. And Pretty Little Liars actress Ashley Benson may have done just that: She seems to have confirmed her relationship with model and actress Cara Delevingne on Instagram. And, unsurprisingly, fans are losing it over the (possible) exciting news.
Rumors of a romance between Delevingne and Benson have been swirling for months, but neither had publicly acknowledged them. That is, until Monday, September 10th, when Delevingne posted a photo of herself in a swanky Balmain dress on Instagram. The Insta account Comments By Celebs soon discovered that Benson left a few comments on the pic. The first one simply read "Mine"—which at least seems like a low-key way of announcing a romance. The next one read "I can see your ???." (For those who aren't up-to-date on millennial jargon, sushi is slang for, well, vagina.)
Many fans took to Twitter to share their joy over what may be official confirmation.
false
https://twitter.com/udfredirect/status/1039446899621748736
Rumors first started back in May when the pair were spotted together at a Lauryn Hill concert, according to a detailed timeline compiled by The Cut. In the following weeks, the supposed couple was reportedly spotted together on numerous occasions. However, just two weeks ago, when People Now asked Benson about it, she pleaded the fifth.
"I think it's the best way in any relationship. I've always been very private about them, and I think it's just better," she said. "I mean it's hard, I don't know, you kind of can't get away from that if you're in the public eye. I just kinda try to keep myself as private as possible.
As entertaining as it is to read about rumored celebrity couples, it's important to remember that celebs have every right to keep their relationships private for as long as they want. Cara Delevingne and Ashley Benson are both amazing, badass women, and no matter who they're dating, we'll always stan.