Cara Delevingne and Ashley Benson finally confirmed their relationship for this sweet reason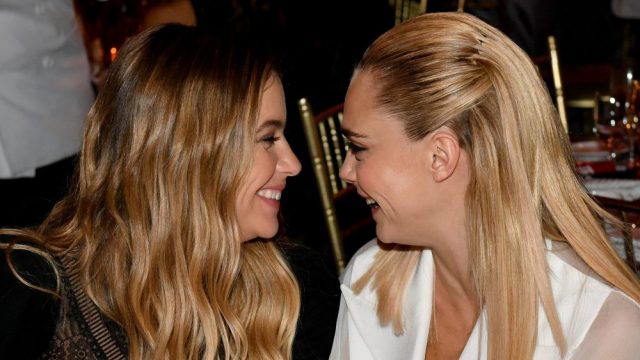 Fans have suspected that there's something going on between Ashley Benson and Cara Delevingne for more than a year now—and with good reason. The actresses have left plenty of hints about their status as a couple, including some cryptic Instagram comments that many took as confirmation that they are indeed dating. Still, they've refrained from making any official statements about their relationship. So when Delevingne and Benson finally went public as a couple, it was a pretty big deal.
On June 15th, Delevingne took to Instagram to share a video of her and Benson kissing in a clear declaration of their romance.
She captioned her post with the hashtag #PRIDE and a smattering of rainbow, heart, and heart-eyes emojis. Benson commented on the post with heart emojis of her own. The video was enough to eliminate fan doubts about their coupledom. And apparently, Delevingne had a couple of meaningful reasons behind her post's timing.
At the TrevorLIVE Gala on June 17th, Delevingne told E! News that she shared the kiss in part because of the anniversary of the Stonewall Riots and in part to celebrate one year with Benson.
"I don't know, because it is Pride, it's been 50 years since Stonewall happened and I don't know," she shares. "It's been just about our one-year anniversary so, why not?"
According to People.com, Delevingne was honored with the Hero Award at the gala, as recognition for her support of the Trevor Project. She took the opportunity to thank her girlfriend in her speech.
"I also have another very special woman in this room to thank, and you know who you are," she said, per E! News. "She's one of the people who helped me love myself when I needed it most and I really needed it. She showed me what real love is and how to accept it, which is a lot harder than I thought."
Benson captured the speech in her Instagram Story, writing "Love you." BRB, swooning.
Rumors of Delevingne and Benson's relationship began in August 2018, after the Daily Mail reported that they had been spotted kissing in London's Heathrow Airport. We can understand why they've wanted to keep things private, but now that it's official, we can officially say that we're so happy for both of them.