This guy pranked police with a double-parked car made of snow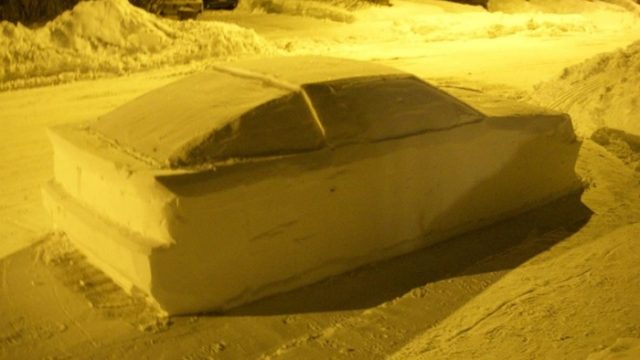 Hold on to your snow hats, because this is one epic prank. On a recent snow day in Montreal, a wood worker named Simon Laprise thought it would be funny to sculpt a car made out of snow and make it look like it was double-parked. He figured the prank would be over as soon as city plowers came through the neighborhood.
However, his sculpture was so realistic that the local police got involved. "I did the car to have fun expressing my creativity on that beautiful day," he told Buzzfeed. "It's illegal to park on the road during snow removal, and that's what probably attracted the police."
Montreal reportedly got around 12 inches of snow, which gave Laprise just enough "material" to create the giant 3D sculpture.
And the photos are going viral. Especially since you can see the police officers checking out the scene.
The cops left a "ticket" on the car, which you can see in the top right photo. Translated, the note they left says, "You made our night!!!"
If you look closely, you can see that Laprise used an actual windshield wiper, which makes the car look even more legitimate. That's the mark of a true professional.
"It's not my first one, just the first I do in the street on snow removal day," Laprise noted in an interview with VICE. "To me, snow is a great free material to sculpt anything out of."
We can't wait to see what Laprise does during the next snow day.