On watching 15 straight hours of Captain America movies
Like all fans of the Marvel Cinematic Universe, I've been excited for Captain America: Civil War for a while; as the buzz around the film grew, so did my expectations. The news that Black Panther would be in the film was thrilling, as was the speculation that Spider-Man might also be in the mix. So when I found out about The Ultimate Captain America Marathon — which I'm going to refer to as the Captain Amerathon, because duh — was taking place on May 5th, I knew I had to go.
The Captain Amerathon was to consist of the four films featuring Chris Evans' Steve Rogers: Captain America: The First Avenger, The Avengers, Captain America: The Winter Soldier, and The Avengers: Age of Ultron, all leading up to Captain America: Civil War. Five movies. Not so crazy, right? Except, all of those films are over two hours, some significantly so. Additionally, the Civil War screening time was pretty early — 7:00 p.m. — meaning that the Captain Amerathon started 12 hours before that, at 7:00 a.m.
I understand that waking up before the sunrises to watch Captain America movies may sound ridiculous and maybe it was. But sometimes when you're a fan of something, you do crazy things just because you love it. Out of all the characters in the Marvel Cinematic Universe, Captain America is my favorite. Chris Evans is excellently cast, and the films have done an amazing job of taking a character who could be really boring, with his fish-out-of-water scenario and his unshakeable sense of right and wrong, and making him truly compelling. I bought my ticket to the Amerathon and mentally prepared to consume a ton of Chris Evans and a ton of caffeine.
My day started at 5:00 a.m. (ouch) at my apartment in Brooklyn, where my best friend and I woke up and got ready before heading to AMC Loews Lincoln Square in Manhattan. By the time we got there, the line of people waiting for the Captain Amerathon had already been let in — nerd fail — so we met up with another friend of mine and ran inside.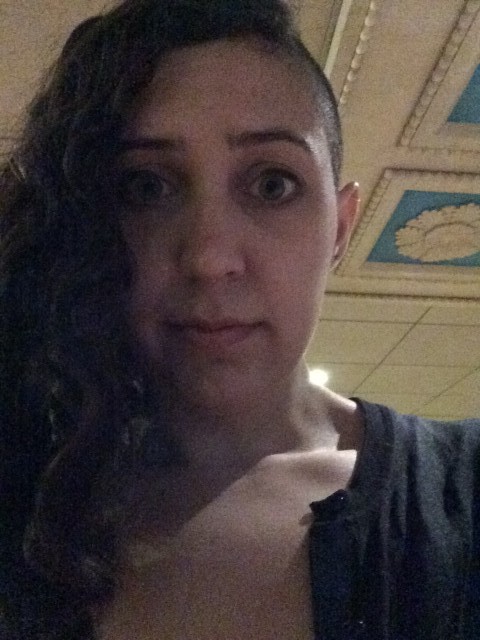 We got our seats — not the best in the house, but not bad at all — and at 7:00 a.m. sharp, the marathon began with Captain America: The First Avenger. I'll admit, this film is far from my favorite, however, the development of Steve Rogers as a character is strong and giving it my full attention for the first time since I originally saw it in theaters enabled me to really appreciate that.
After The First Avenger, there was a roughly 25 minute break. I left the theater and did a quick lap around the block; the chilly air was bracing and gave me the boost I needed before The Avengers. This one I was pretty excited to see — it's one of my favorite Marvel films and is consistently really fun to watch.
After that, there was an hour break. I stayed in the theater, getting my fix of the outside world via my phone, and generally being pretty lazy. The downtime helped, though, and when Captain America: The Winter Soldier began, I felt reenergized. One of my favorite films in the Marvel Cinematic Universe, The Winter Soldier is a solid action movie in its own right and not just in comparison to other superhero movies.
Things started to get a little difficult after that, though. There was another 25-minute break, and I ran out for salad sustenance, which I brought back to the theater and inhaled promptly. The final film before Civil War, The Avengers: Age of Ultron was a little hard to get through. It's not a bad movie, but certain parts of it lag a little and while the one-liners still deliver, there are only so many Ultron-robots you can watch getting torn apart when you're sleep deprived before you start wondering why you aren't napping.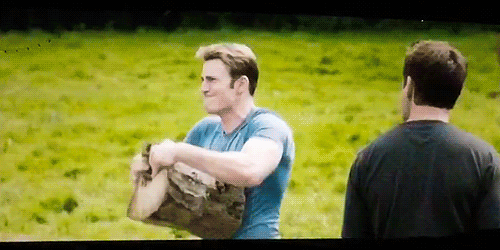 When the film ended, it was 11 hours after we'd begun this mad journey, and we had another hour break. I stretched a bit in the aisle by our seats; my friend Sarah and I took pictures in front of the movie poster set up outside our screen. Then, I decided it was finally time for popcorn so I stood in line for ages, texting friends in the outside world in a total delirium because my brain was basically Amerathon mush.
And then, a few minutes after I set my popcorn and soda down by my seat and went for one last bathroom break, the moment of truth arrived. Just after 7:00 p.m., the lights went down, and the trailers started. Well, one started, then cut out, then started again with no sound — then cut out again. Finally, it started playing and played in full — but there was a minute there where that room full of nerds thought that perhaps, we'd gone through all that movie-watching and time only to have the thing we most wanted snatched away from us at the last-minute.
Luckily, that didn't happen — we were told to don our 3-D glasses and, finally, the movie started.
Honestly, it's nearly a week later and I still haven't totally processed the experience. I know that I liked Captain America: Civil War, and that I liked it a lot. I love that, like The Winter Soldier, this film uses Steve Rogers' ethics to create a compelling scenario, this time putting him in a situation where doing what is right means actively opposing a lot of people you deeply care for.
I left the theater after Civil War pretty exhausted, you wouldn't think sitting in a theater all day would be so tiring, but at about 14.5 hours, the Captain Amerathon felt like I'd just battled some Chitauri.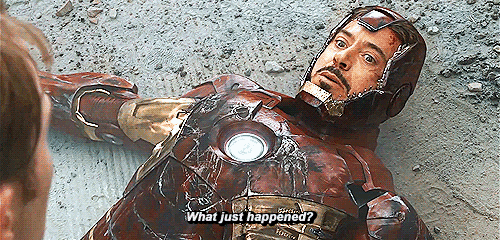 I'm glad I did it, though, I had a blast, and learned that sometimes, you just need to take a day off from real life and do something a little crazy in the name of fandom.