These capes are so gorgeous, they're all you need for a Halloween costume
T-6 days until Halloween! Are you still struggling to come up with the perfect costume that will leave people awestruck? Or perhaps you're the type who doesn't like to put too much effort into a costume, but still want to make a lasting impression. Whichever type of "Halloweener" you are, we found some capes that could seriously help you win at Halloween this year by adding a little somethin'-somethin' to your DIY costume.
Capes are often overlooked as Halloween essentials because the ones offered in generic party stores are cheap-looking and overly basic. Oftentimes people underestimate the power of a good cape, and how one can truly make you feel like a completely different person (or, ya know, creature)! The following Etsy creators offer some incredibly unique costume pieces that will inspire you to get your cape on.
1. Fairy Queen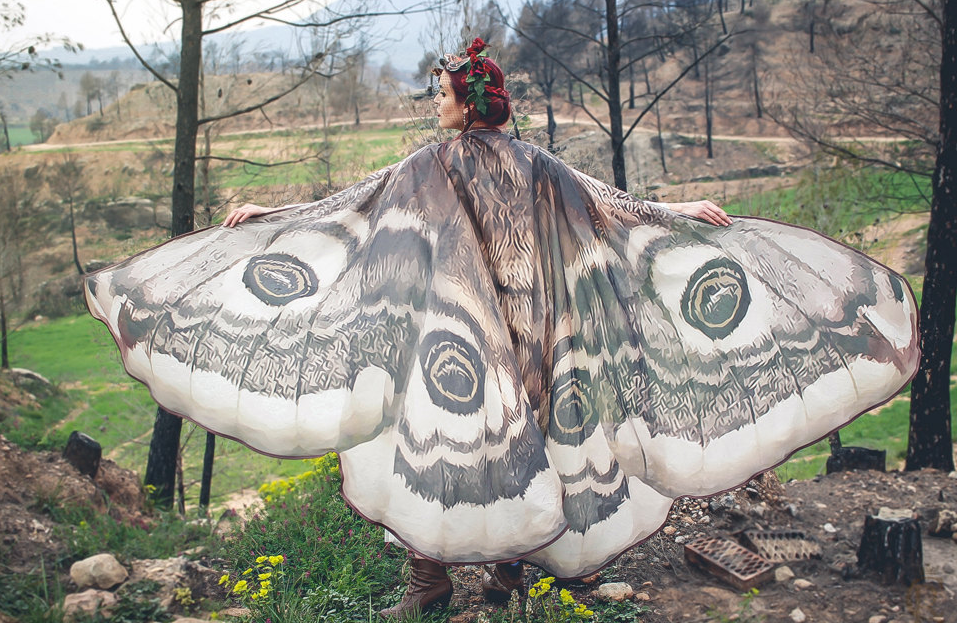 Just take a minute to let this image sink in. How absolutely beautiful would you look as a Fairy Queen decked out in this cape from CostureroReal on Etsy, paired with a mossy flower crown and a white lace dress? We'll answer – you'd look freaking gorgeous. This cape goes for $190, but if moths aren't your jam…
CosturerReal also sells some unbelievable butterfly wings. For example, these Monarch wings for $190.07 are actually unreal: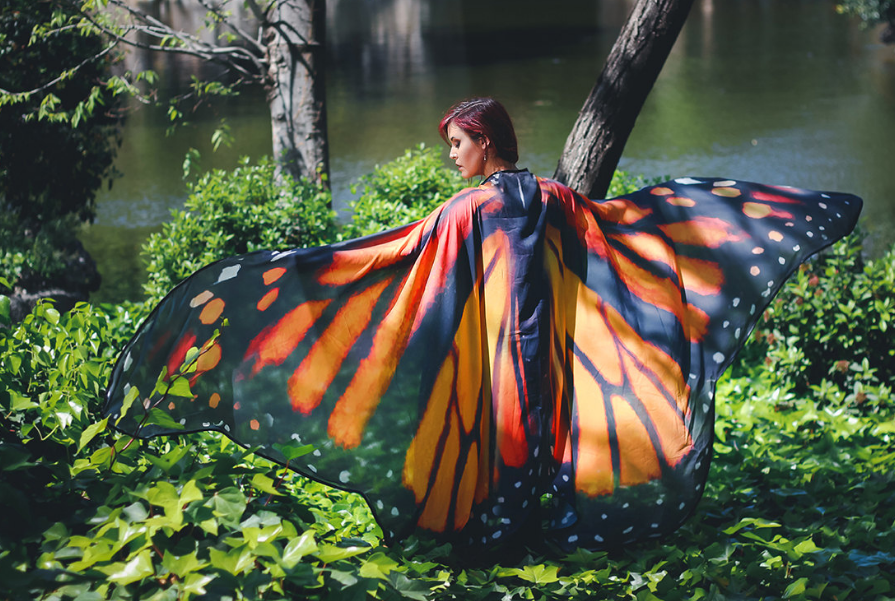 . Bat Queen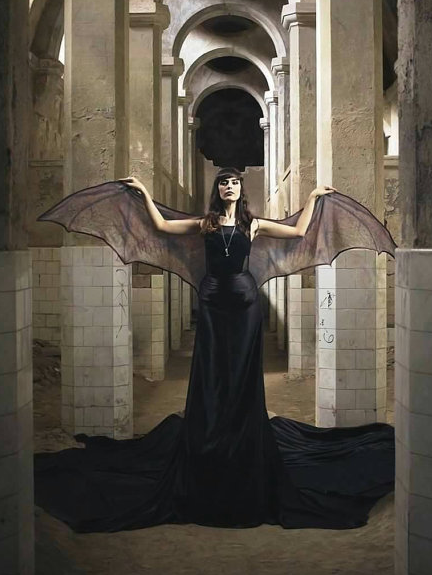 Do a 180 on the fairy idea and delve into the darker side of life with these bat wings for $89.45. This set is also from CostureroReal on Etsy because we actually can't get enough of their products. Pair this cape with a black dress, fishnets, and some black leather boots and you've got yourself a badass Bat Queen. Make yourself the ruler of the vampire bats and trickle some fake blood down your chin to complete the look.
3. Little Red Riding Hood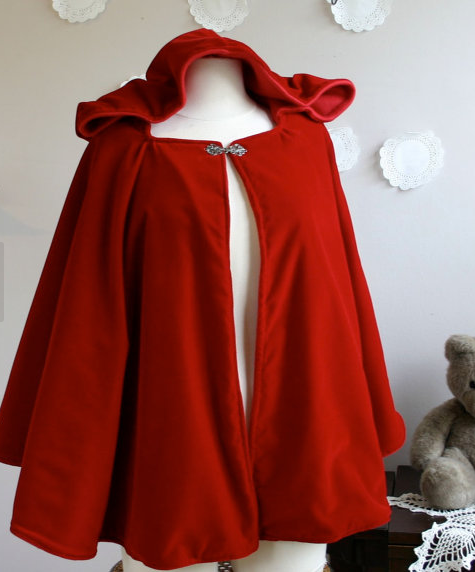 Little Red Riding Hood is a classic costume that is so easy to recreate. But if you want to one-up all the other Red Riding Hood's out there on Halloween, consider purchasing this red velvet, thigh-length cape from lorigami on Etsy. Each capelet is made to order, and is offered in velvet or wool for the outside and fleece or satin for the lining. Fleece lined capelets go for $169 and satin lined capelets go for $179, so you can choose the luxury that best fits in your price point.
4. Member of the Stark family from Game of Thrones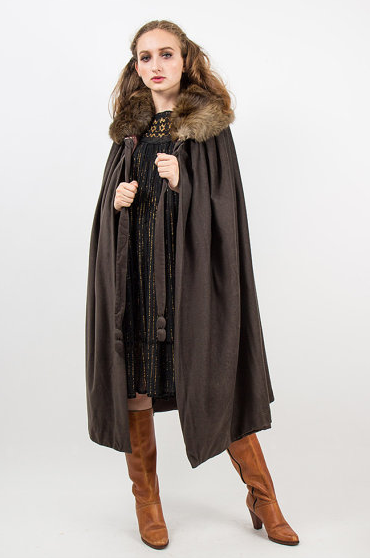 This cloak is perfect for playing any member of the Stark family. It's fur collar and the gray color fits the Winterfell uniform to a T. But here's the kicker with this cape: It's actually an antique Edwardian wool cape. That's right. Edwardian, meaning it's from circa 1910. CarlaAndCarla is selling this one-of-a-kind cape in their Etsy shop for$115. But truthfully, you can't really put a price on the history you'd be getting with this cloak.
5. Flapper / Art Deco Goddess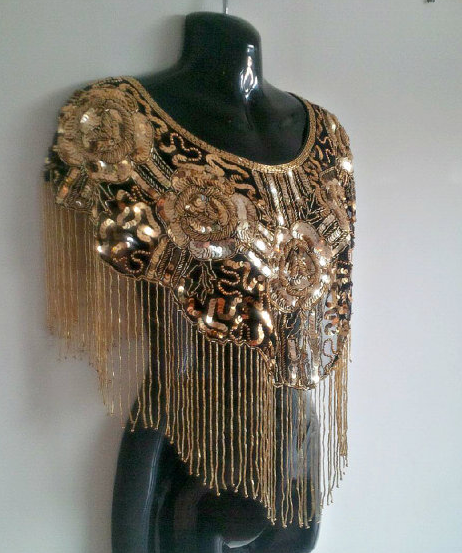 Here's another historical masterpiece in the form of a beaded 1920s Art Deco shrug. Put this piece over your shapeless, tasseled flapper dress and be the envy of your Halloween party. Channel the original owner of this cape, who wore this to speakeasies and Lindy Hopped her night away. Buy this from Jywal's Etsy page for$58.
6. Masquerade Mystique
This jaw-dropping shrug made from black rooster feathers is pure decadence. Perfect for becoming that shadowy, masked figure lurking around the party, or to add the cherry on top of your Maleficent recreation, this cape is sure to send others reeling. Made by eilasan on Etsy, this cape is sold for $215.
If you like the look, but want to make sure your feathers are ethically sourced and cruelty free, use this cape as inspiration and make your own feathered capelet with feathers from other Etsy sellers like JAKRabbitry.
7. Spider Woman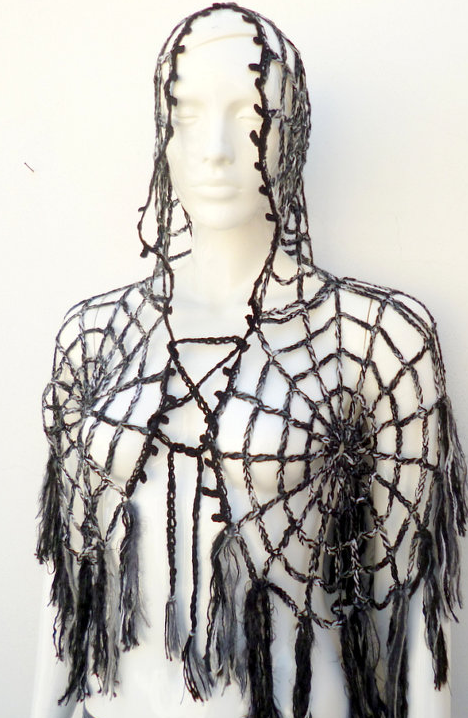 Okay, this is pretty freaking cool. Irina at SpiderWebsPoint on Etsy makes these amazing crocheted, webbed shrugs that we want to actually wear all the time. For only $42.64, this cloak will make you feel like you rule the roost – or web, rather. Match this number up with a black, gray or red dress, don some spider web eye lashes and black lipstick, and you are Spider Woman (in a literal sense). Or get that witch hat out of the closet, and spook it up,  witch style!
These seven cloaks, capes, and shrugs will have you covered for each day of "Halloweek." Plus, supporting artists and antique dealers is super rewarding. You're receiving quality items that you'll be able to wear year after year and never grow tired of. Happy shopping and happy spooking!