We can't wait to get our hands on these super cute Wet n Wild holiday palettes
Wet n Wild has come a long way from the lip balms and glosses of our childhoods. The drugstore brand is going all out this holiday season with three super cute palettes. We suspect these were meant to be giftables but who can resist an affordable palette with a rainbow of shades? We knew Wet n Wild was on a roll when they launched a crazy good gold highlighter and it looks like they have no plans on slowing down. (And if you're still looking for a rainbow highlighter, they make an amazing dupe.) A few of their holiday releases have been getting some buzz on IG and we can totally see why.
Take a look at the Holiday Beauty Book, Beauty University, and the Peace, Love, and Joy-Full Palettes pictured below from left to right.
So far only the Peace, Love, and Joy-Full and Beauty Book palettes are offered on Wet n Wild's site. Here's a closer look at each one…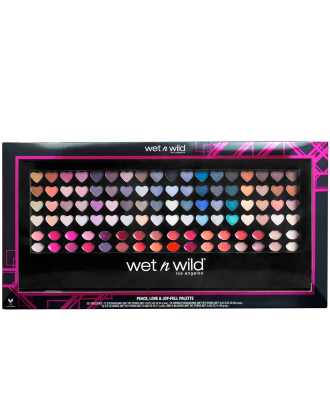 The Peace, Love, and Joy-Full palette  has a total of 128 shades, including 72 eyeshadows, 18 cream eyeliners, 32 lip glosses, and six blushes. The entire palette is only $20, making each little product only about 16 cents each. A. STEAL.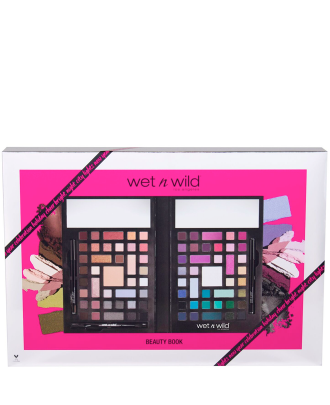 The Wet N Wild Beauty Book palette has 78 shadows, two liners, and is priced at $30. With an entire side dedicated to neutrals and the other to bright colors, you can enjoy this palette no matter what look you're going for. You can totally be a beauty minimalist or maximalist this season.