We can't believe this news anchor was shamed for wearing skinny jeans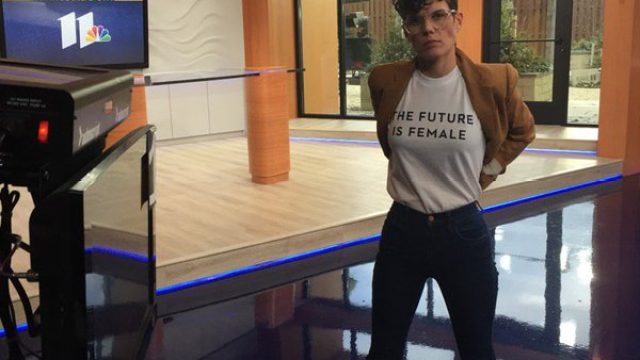 Another day, another woman shamed. Does it ever end? News anchor Jana Shortal, who was shamed for not wearing a "traditional" outfit while reporting on a tragic story, would probably say that, no, it doesn't. On Tuesday, Shortal was shamed by another journalist and columnist who, instead of focusing on the tragedy at hand, called out her outfit. While reporting on the new developments of the 1989 kidnapping and murder of Jacob Wetterling for KARE 11 (a man had come out and admitted his guilt), a Minnesota station, a columnist decided to focus on Shortal's pants.
"She looked great from the waist up in a polka-dot shirt and cool blazer, but the skinny jeans did not work," the cruel columnist wrote, according to Cosmopolitan. "I was among a number of media types who found them inappropriate and, given the gravity of the day's subject matter, downright jarring. […] I would think that hipness wouldn't be a priority while covering one of the biggest, saddest stories in Minnesota history."
Like, what? We would think that watchers of Shortal's show would be so shocked by the tragic death of a young boy that they wouldn't even be *thinking* about what she was wearing. How in the world do skinny jeans even register when you're hearing about something so upsetting? If anyone should be questioned, it's this columnist. And for her to be a fellow female journalist… oh, we're fuming.
The columnist even tweeted directly at Shortal to shame her further.
It's truly, truly absurd.
It led to Shortal writing a lengthy Facebook post, where she shared her hurt and frustration over being constantly judged for her outfits, and not her reporting. 
"I wore my clothes. The clothes it took me a very long time to feel comfortable in no thanks to the bullies like you who tried to shame me out of them," she wrote. "You wrote about clothes in the darkest moment of Minnesota news history."
Shortal, we stand with you. It's so important to have women who stand up and refuse to follow the rules of "professionalism" if it means compromising their own identity and filling a gender role that just doesn't work for everyone. We're here for women who challenge norms, and we're here for Shortal.