We cannot stop laughing at Tinashe's brand new "bae watch" video
When Tinashe's song "Superlove" dropped earlier this summer, we were all like:
The R&B singer swings between genres and styles a lot — her breakout hit "2 On" is a groovy ode to nightlife vibes, her EPs are a little bit more experimental, and other new singles like "Party Favors" and "Ride of Your Life" were hazier bedroom songs. But "Superlove" has been a cherry red-pop of young love brightness in her discography, and now it's gotten an appropriately cheeky and lowkey hilarious music video to go along with it:
https://www.youtube.com/watch?v=hv44srAsAo4?feature=oembed
First of all, we kind of adore this bae watch girl squad and their noble aim of saving hunks in trouble. (We may have done a quick search for "bae watch" swimsuits… yes, we know Labor Day is coming up.) Second of all, can we just take a moment to appreciate her and her dancers' ridiculous choreography? As anyone who's ever run on a beach can tell you, it's hard to do any sort of intense footwork in the sand, but they make it look easy: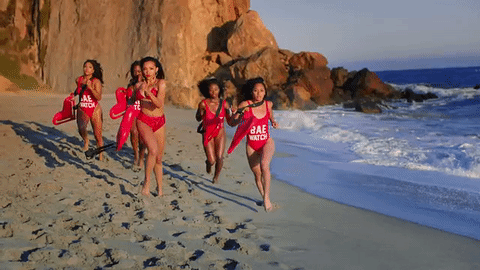 All that said, the original song is a little bit… unhinged, shall we say? "Superlove" is love at its very most, in all aspects, and by the end of the video, bae watch gets a little bit out of control, which gives this whole sexy, sandy shindig a touch of hilarity. Watch and bop along yourself.