What to do if you can't afford your bills right now, according to financial experts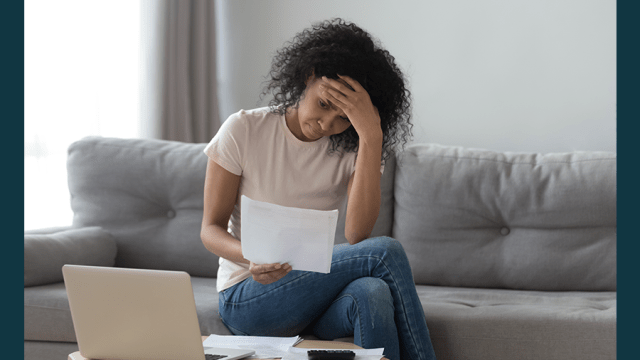 With the end of the month looming and the spread of coronavirus (COVID-19) still on the rise, many Americans are worried about whether or not they'll be able to pay their bills. If that's you, we hear you, we see you, and we want to remind you that you're not alone. This uncertain time has turned many aspects of our lives on their heads, and not everyone has the ability to work from home. You may be unable to get to work, have reduced hours, or even be experiencing temporary unemployment. The stress of it all can take a toll on your mental health.
If you're worried that you can't pay your bills right now, or have lost your income because of the pandemic, there are measures being taken to ensure that you don't lose your home or incur additional penalties from not being able to pay. The tax deadline for 2020 was even pushed back from April 15th to July 15th so, hopefully, that's one less thing to stress about right now. For tips on what to do if you feel like you can't pay your bills right away, we tapped experts for advice.
Can't pay your bills because of coronavirus? Here are some tips:
1Start a dialogue with your landlord.
If you're one of the many people wondering, "Can I be evicted during a national emergency?" rest assured that, legally, that might not be possible right now. As David Reischer, Esq., an attorney and CEO of LegalAdvice.com, tells HelloGiggles, "A person [who] cannot pay rent right now due to the loss of income because of the coronavirus should recognize that evictions are now unlawful in many states and are soon to be unlawful under federal law if the new $2 trillion relief bill passes in Congress. The new laws are being set to protect tenants at the expense of landlords."
But Caleb Liu, owner of real estate company HouseSimplySold.com, says the most proactive thing you can do if you feel like you can not afford your rent is to talk to your landlord ASAP.
"Many renters forget that landlords are people, just like anyone else," he says. "They are dealing with the same doubts and insecurities everyone else is facing. If you can bridge that gap early and reach out to them before a real issue arises—things are changing very quickly right now—they're very likely to extend some flexibility with your situation. It never hurts to ask," he explains.
Moreover, many banks have started to offer mortgage forbearance programs to defer mortgage payments. However, these take a while to set up given the volume lenders are dealing with at the moment. The sooner you notify your landlord, the sooner they can get started on this process.
Whatever you do, try not to skip out on the payment without telling your landlord.
2Get in touch with your lenders, including student loan agencies.
Some good news: The government is providing student loan relief to tens of millions of borrowers during the coronavirus national emergency, meaning you might not have to worry about making payments towards your hefty student loans right now. According to the U.S. Department of Education, borrowers will be able to put off two monthly loan payments, and interest has been waived for 60 days, starting retroactively on March 13th. If you need to take advantage of this, contact your loan servicer directly, via phone or online, and let them know.
"Companies are going to be more receptive than ever before because they are under extreme regulatory pressure to work with you," Ed Mierzwinski, senior director of federal consumer programs at the U.S. Public Interest Research Group, told CNN. If you feel strapped to make any kind of monthly payments, it's worth reaching out.
Ashley Russo, a financial advisor for Northwestern Mutual, suggests calling your credit card company to see if they have any offers that can help you during this time. "You'd be surprised how companies are flexing to help their customers," she says.
3Assess all of your options.
Russo also tells us that some people may qualify for certain benefits or statutory sick pay through their employers and that, if this is not an option, you may also want to look into taking out a personal loan temporarily. Some banks are even waiving fees and offering low or zero interest right now, while credit unions and bans are making special accommodations for those impacted by the virus.
4Use the check from the government.
"Pay close attention to the packages that the federal government is currently rolling out to help those affected by this downturn," says Russo. Right now, there is a proposal in place that would provide Americans a direct payment as a means of assistance.
The checks will be based on a household or individual's 2018 tax return and would provide up to $1,200 to qualifying people. If passed, this stimulus money could be used to help pay expenses during these times of financial hardship.
5Take control of what you can.
"During this time, when so much is out of our control, focus on what you do have control over. And once this time passes, work on putting a financial plan in place to help protect you in the future," says Russo. "It's important to remember not to use your emotions when it comes to financing. It's easy to fall victim to fear and panic, but try to stay the course and lean on a professional, like a financial advisor, for support and guidance."