There is about to be a cannibal mermaid musical movie, and we will take all the tickets, please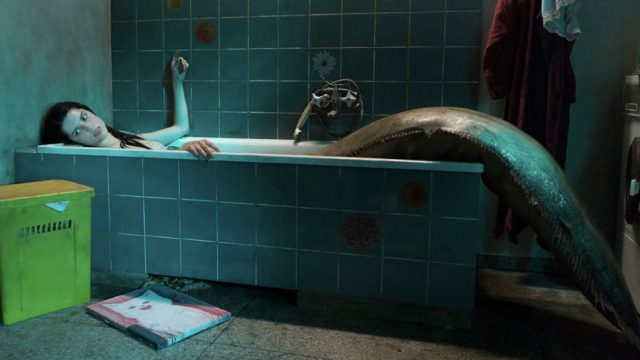 Even though we just dipped our toes in the waters of musical films with the enchanting La La Land, it seems that tune-filled movies are just gaining momentum.
And GUYS. This next one is sure making a splash. Because while all things mermaid are pretty awesome, not all of them need to be super sweet. That's right, mermaids AND musicals are about to take a very dark turn, and we're thrilled.
 Yes, you read that correctly. Singing, people-eating mermaids. The way they were intended to be.
We have Polish filmmaker Agnieszka Smoczynska, who made her directorial debut with the film, to thank for this genius idea.
The plot of The Lure goes as follows: In 1980s-era Warsaw, Poland, two man-eating mermaid sisters are drawn to life above the sea. On land, their beauty and singing prowess makes them an instant hit. But when one of the sisters falls in love, the tensions rise—and the teeth come out.
https://www.youtube.com/watch?v=JG7-FuMrTr4?feature=oembed
With their extra-long, serpentine tails and deep-sea worthy teeth, these fishy gals are NOT your average mermaids.
 Perhaps the best part is how the director herself describes her main characters.
"My mermaids feed themselves with human hearts," says Agnieszka. "They do not wear bras. Of course, they sing beautifully."
Umm, don't these mermaids sound badass?! Hear more of what Agneszka has to say in the video below:
https://www.youtube.com/watch?v=vI2UHxMPk4I?feature=oembed
Not only does this movie seem crazy, it's also getting good reviews. It was well-received at the 2016 Sundance Film Festival and the rest of the film festival festival circuit. And now, it's coming to the states—it makes its debut February 1st at the IFC Center in New York City.
And not to mention, the soundtrack is fully of catchy Europop tunes that are definitely going to wiggle their way inside your brain.
You can bet we'll definitely be sinking our teeth into this flick as soon as it's stateside! Hopefully, we'll see more of these genre-bending movies coming out soon!