5 canned wines you can get for under $5, because it's picnic & BBQ season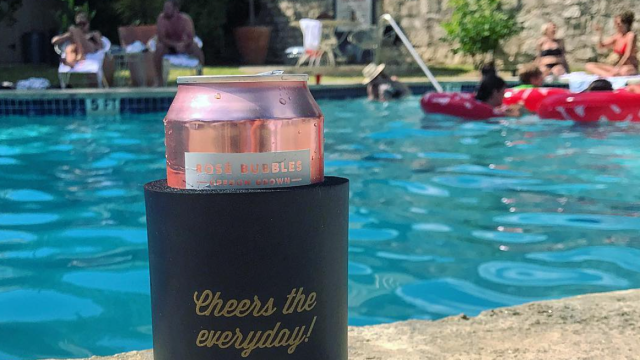 Now that we've passed major summer milestones — Memorial Day, Solstice, 4th of July — it's pretty much time to chill out for the next two months. Since canned wine has been deemed THE drink of summer 2017, what better way to celebrate the hottest season of the year than with a chill summer picnic or barbecue featuring canned wine?
Sure, it's fun carrying your wine in cat flasks and buying an award-winning bottle that happens to cost $10. But canned wines are the best of both worlds, because they're easy to carry and they're inexpensive. Plus, who doesn't love drinking wine from a can? That's so fun, HELLO!
Here are the best canned wines you can find for under $5.
1 Underwood Wines in a Can
Made by Union Wine Company in Oregon, these canned wines come in a variety of types. There's Pinot Noir, Rosé (yas), Pinot Gris, Rosé Bubbles, and The Bubbles (a citrus-y, sparkly wine). They're perfect for throwing in a backpack and sharing with friends in a park, and cost between $5 and $7 per can (hey, there's about half a bottle in there!).
2 Simpler Wines by Trader Joe's
Trader Joe's got into the canned wine game this year, confirming our suspicion that TJ's really does have our backs. Each $4 four-pack of canned wine is filled with vino frizzante — that's Italian sparkling wine — and that is a literal bang for your buck.
3 Sofia Blanc de Blancs Minis from Francis Ford Coppola Winery
If you want to drink wine like an award-winning director, the Sofia Blanc de Blancs comes in 187 mL cans! Rejoice! The sparkling Pinot Blanc blend even comes with a pink straw, so you can sip like an Italian prima donna who can't mess up her lipstick. You can get a four-pack for $17 here.
4 Barefoot Refresh Spritzers
The Barefoot wine-in-a-can comes in four varietals — Crisp White, Summer Red, Moscato Spritzer, and Rosé Spritzer — and they make for the easiest picnic dranks you could ever imagine! Who doesn't love drinking Barefoot wines while running around a park barefooted? Just make sure you don't shake it up too much because it is carbonated. They retail for $10 for a four-pack.
5 Babe Rosé With Bubbles by Swish Beverages
It was only a matter of time before Instagram celebs got into the rosé game. The Fat Jewish and Babe Walker recently released White Girl Rosé, which includes a line of sparkling canned wine called Babe Rosé with Bubbles. It's definitely the apex of trendy Instagram culture, which isn't necessarily a bad thing.
 Enjoy your canned wine responsibly, which includes recycling the cans afterwards (we're looking at you, Don Draper).