16 fancy cannabis items to treat yo'self with when you visit California this Christmas
2018 may have felt like the longest 12 months ever, but it was the first official year of one wonderful thing: California's marijuana legalization!
If you're coming to California for the holidays, you've got a lot to be excited about, and not just the fact that you don't have to worry about packing a winter coat. What we're saying is, you'll be able to legally partake in all the cannabis you want. Whether you're a novice marijuana user or an expert at rolling the perfect joint, you'll be able to find something on this list that tickles your fancy. Just stop by your nearest marijuana dispensary when you get to the Golden State.
Below, 16 luxe cannabis items to shop, from vaporizers that will get you a smooth high to CBD tinctures for the ultimate chill-out sesh.
1Lowell Herb Co. Rolling Kit
When it comes to style, Lowell Herb Co. has it down. This rolling kit, which contains a wood roller, two glass flower jars, papers, tips, and a grinder, is based on the original ones used by Lowell farmers back in the day. Just a little vintage touch for your high.
2Kiva Camino Gummies in Sparking Pear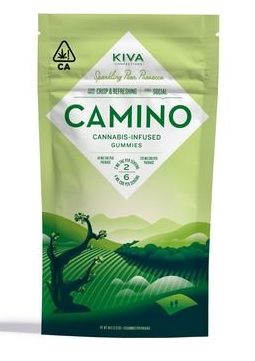 If you've ever had a bad experience with edibles but are ready to give them another go, Kiva is a good brand to hold your hand through it. Try the brand's Camino Gummies, which are inspired by different parts of California and bring a unique vibe with each flavor. Sparkling Pear, which has 2mg of THC and 6mg of CBD, aims for a social effect, so try one of these when you're hanging out with friends.
3Kiva Vanilla Chai Cannabis Infused Chocolate
In a chocolate mood? Try Kiva's famous bars, which—WARNING—taste so good, you might almost forget they're dosed with 5 mg of THC per piece.
4Dosist Holiday Bliss Kit
If you like to vape your weed, you can't go wrong with Dosist. Choose from six different effects, including Bliss, which will helps you feel exactly that.
5Eden's Extracts Gem Line Cartridge
At $30, this vape cartridge is a steal, and it comes in a variety of classic strains like Blue Dream, Jack Herer, Blackberry Kush, and more.
6Kush Queen Relax Bath Bomb
If you're a bath bomb fan, you gotta pick up a few CBD and THC-infused ones from Kush Queen.
7Dr. Robb Mom's Formula
After Dr. Robb's mother went through cancer treatment, she experienced a lot of stress and anxiety, which was relieved by microdosing cannabis. This supplement, which can be taken once a day, can help decrease anxiety levels.
8Mary Jane Girls Club Flavored Rolling Papers
These flavored rolling papers make the cutest joints.
9La Vida Verde
These lemon cookies come in both indica or low-dose CBD options.
10Hemper Pink Pack
Are you all about that pink? Gonna need to match your bong, grinder, and ice cream pipe.
11Lord Jones High CBD Tinctures
If you're looking for luxe, high-quality cannabis products, Lord Jones is a must. Choose from peppermint or lemon tinctures that will help you feel calm and relaxed. You can drop these in your afternoon tea or make yourself a CBD cocktail.
12Pax 3 Vaporizer
Always wanted a Pax vape? Get it in this stunning limited-edition fuchsia color.
13Bae Vape
While we're on the topic of pink vapes, put Bae on your wishlist. It's available in three strains and flavors: Pink Punch (sativa), Cake Batter (hybrid), and Macaron (indica).
14The Now Nourish CBD Balm
If you're heading to L.A., book a CBD massage at The Now, then bring home Nourish, the brand's own peppermint CBD balm.
15Y7 X Nice Paper After Flow CBD Bath Soak
Yoga studio Y7 Studio teamed up with the folks at Nice Paper on this ultra-soothing CBD bath soak. Spoil yourself!
16Sagely Naturals Relief and Recovery Roll On
This headache-zapper from Sagely Naturals is a lifesaver, and something you're gonna definitely need after the holiday craziness.