Oh my goth! Check out these candied apples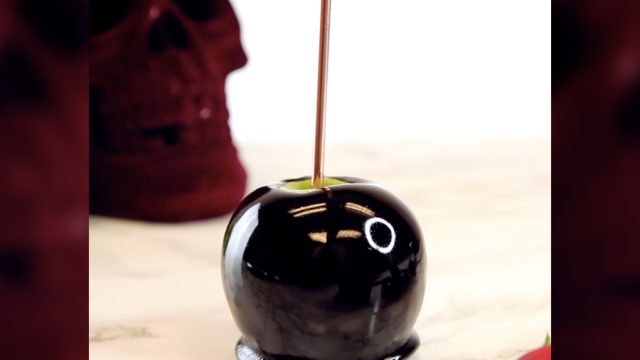 Save the apple pie for your granny, because these goth candied apples are next level! For your next glam party put on your fiercest black outfit and get your #GothicSquad together to celebrate all things mysterious! This video has #GothGoals written all over it for anyone who wants to apply a little ~romanticism~ into their candied fruit. Once you try this recipe at home, you'll be welcoming all food to the dark side!
[tempo-video id="5165620915001″ account="4607804089001″]
Goth Candied Apples
Ingredients:
2 cups granulated sugar
¾ cup water
½ cup light corn syrup
Black gel food coloring
6 Granny Smith apples
Directions:
Add all ingredients (except apples) to pot.
Bring to boil stirring constantly until a candy thermometer reads 310 degrees Fahrenheit.
Remove stems from apples and skewer with wooden sticks or another preferred handle for dipping. Dip each apple individually and set to cool on sheets of parchment paper.