This Canadian tuxedo makes me feel like belle of the ball, and sometimes I need that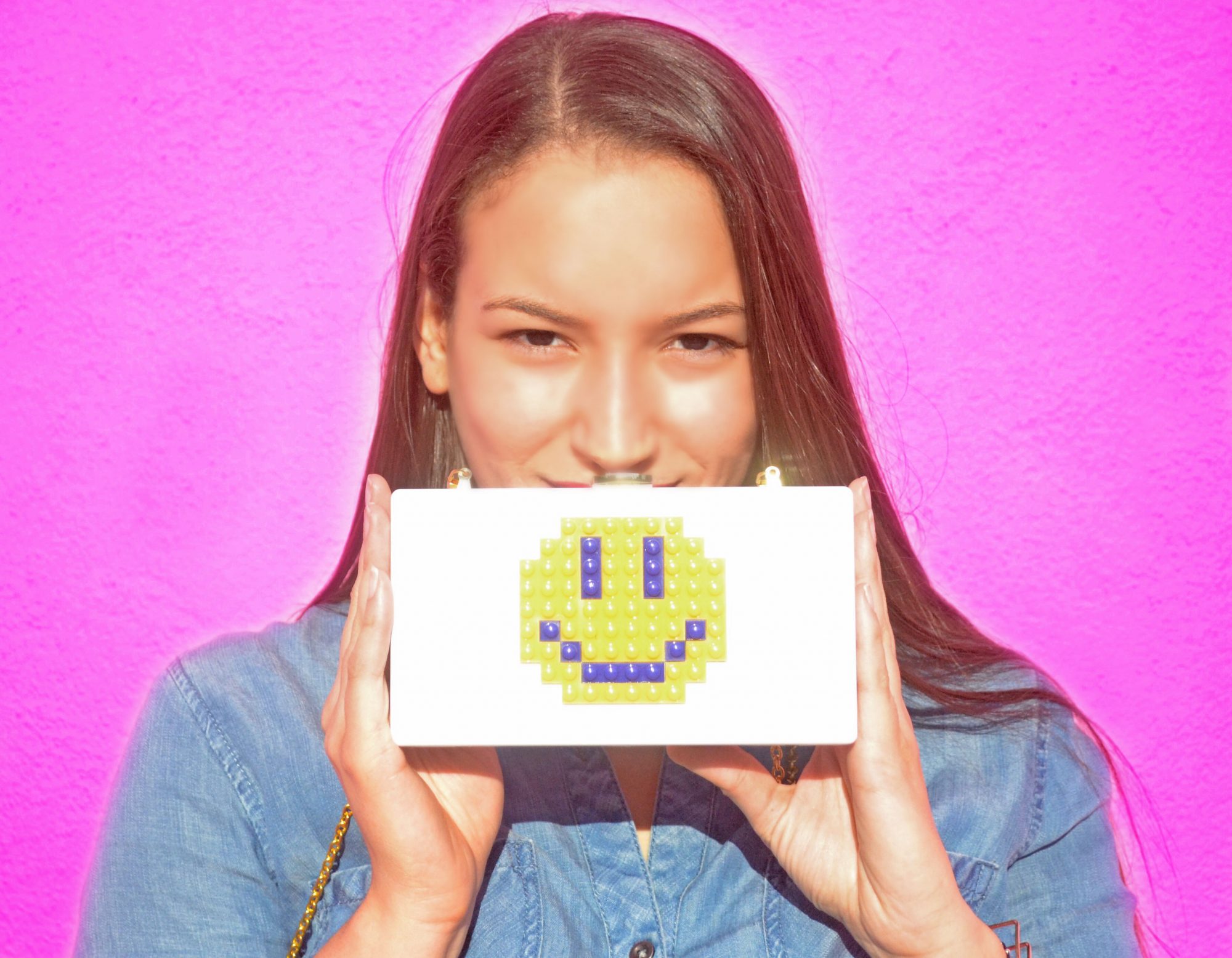 Hey you, reader. We started a new column called Hey, Where'd You Get That, because the staff and contributor network of HelloGiggles has an eclectic style—no human dresses the same, or frequents the same stores. And rather than get hung up on labels and brands and trends, we want to talk about the way clothes make us FEEL. There is so much emotion tied to the way we dress, and we want to share that intimate style narrative with you. Wanna submit your #OOTD story? E-mail us at [email protected]!
Denim on denim isn't anything novel or interesting. If anything, the Canadian tuxedo—a look that evokes Justin, Britney, and '80s snapshots of dads with long-gone beards in the basement—is a canvas, one ready-made for leather jackets (like the ones that make us feel unfuckwithable), ornate necklaces, bright heels, and an even brighter lip.
Or you can be like me, and wear it at a tier just above normcore. Blue, blue, maybe a cool bag, maybe a pointed shoe. Sometimes just the double-duty denim and white Converse low-tops, because nothing can go wrong in white Converse. (Confucius said this.) This outfit is comfort to me. Sorry if you think it's played out. In denim, right now, I feel pretty.
I gained love-weight last year when I began a relationship with my partner in dine, and we ate Los Angeles together, hand (al pastor taco) in hand. But with love-weight comes certain drawbacks. Getting dressed can sometimes be hard now. Jeans that were once snug in a good way are now snug in the shouldn't be bad, but feels bad way. That's why when I pull on this stretchy 7 For All Mankind pair, I feel relieved. There's nothing binding about them. The waist sits just right. Two holes at the knee are enough to suggest ¯\_(ツ)_/¯ but not loose or droopy enough to overtly state it. They're a medium wash, meaning both light and dark enough to go with everything. I've been wearing them two or three times a week lately, but who's counting.
I like a thin cuff to my jeans, especially when I wear flats, because cuffed hems frame my ankles nicely (I do have really good ankles). The Topshop flats I often wear with these are leopard and backless and the reason I wake up in the morning. Leopard is my OG print but I can't wear it like I did in middle school, which is to say from top to bottom. Now I go for ancillary leopard (a shoe, a scarf, maybe the pocket on a tee) because you can only wear animal print leggings for so long. That window is narrow and ends with puberty.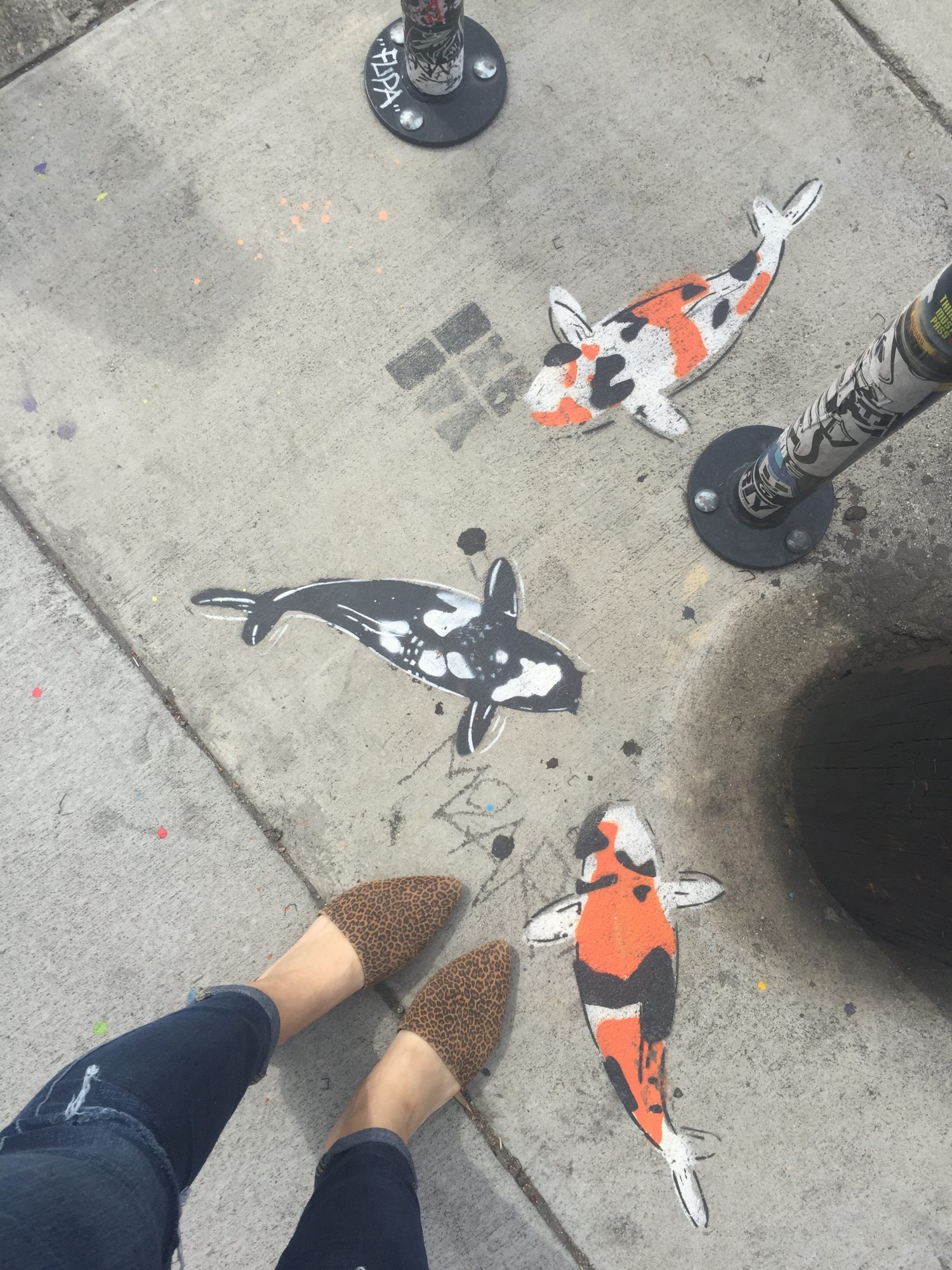 By the way, slides are amazing, and I don't know why anyone wears shoes that have backs anymore. The freedom to pull my foot out at any moment is electrifying. Sorry if you've seen my feet when I've worn these. But also not sorry, because I get pedicures on the reg.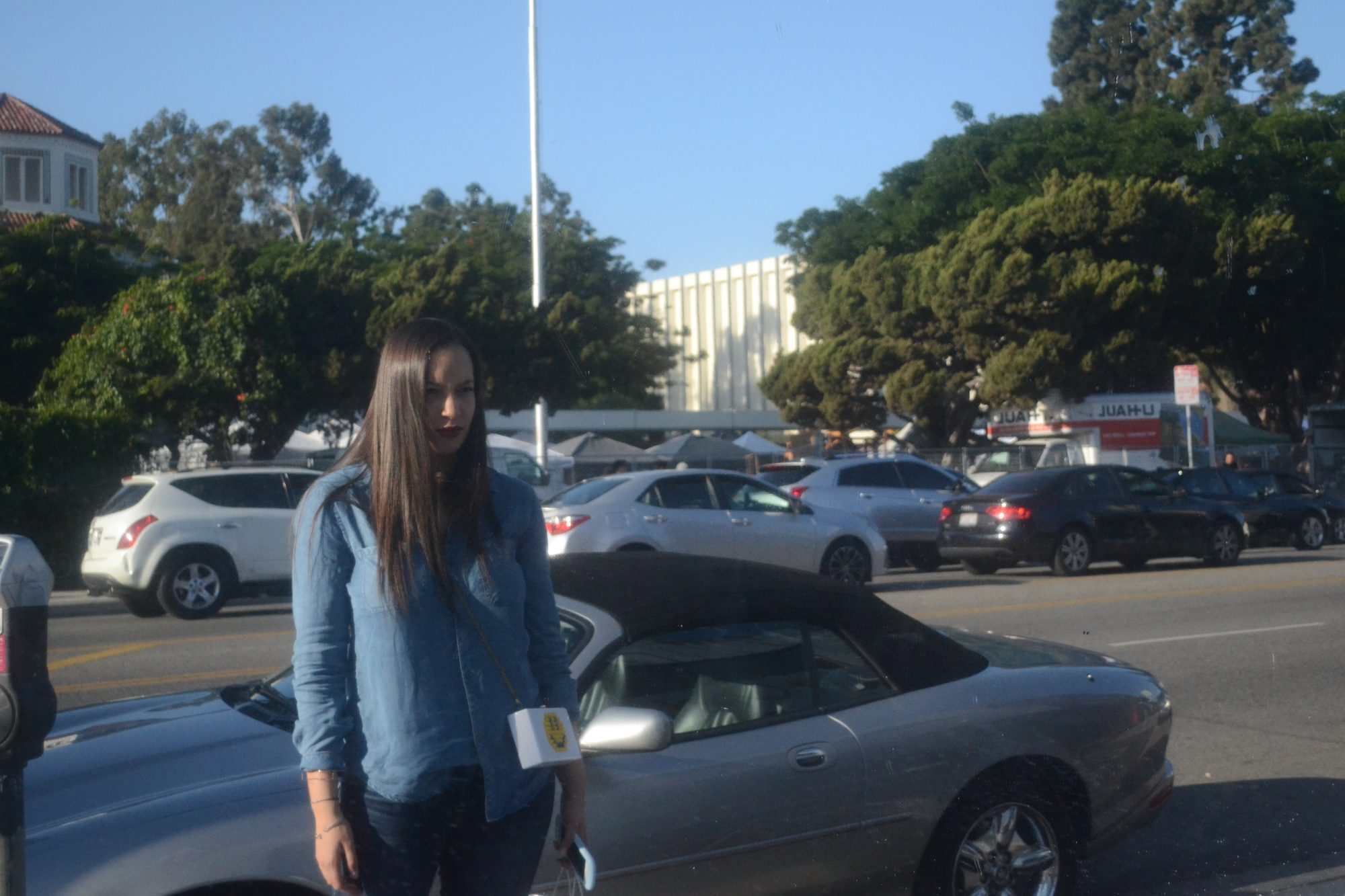 I have big breasts and this Andrea Jovine shirt is all about them. I don't have to ruminate about my body when I put on this shirt. I don't even have to wear a bra. It's from Nordstrom Rack, the clearance rack of Rack specifically, and must have boasted at least two red-line price stickers to make it into my "worth the agita of shopping at Nordstrom Rack" wheeled basket. It fits loosely enough to feel comfortable, but has enough integrity to keep my shape. It's soft. And okay, I'm not going to lie, it's not exactly denim. And sorry, it's not chambray either. It's Tencel—a silky, cotton-adjacent fabric that feels the way ice cream tastes.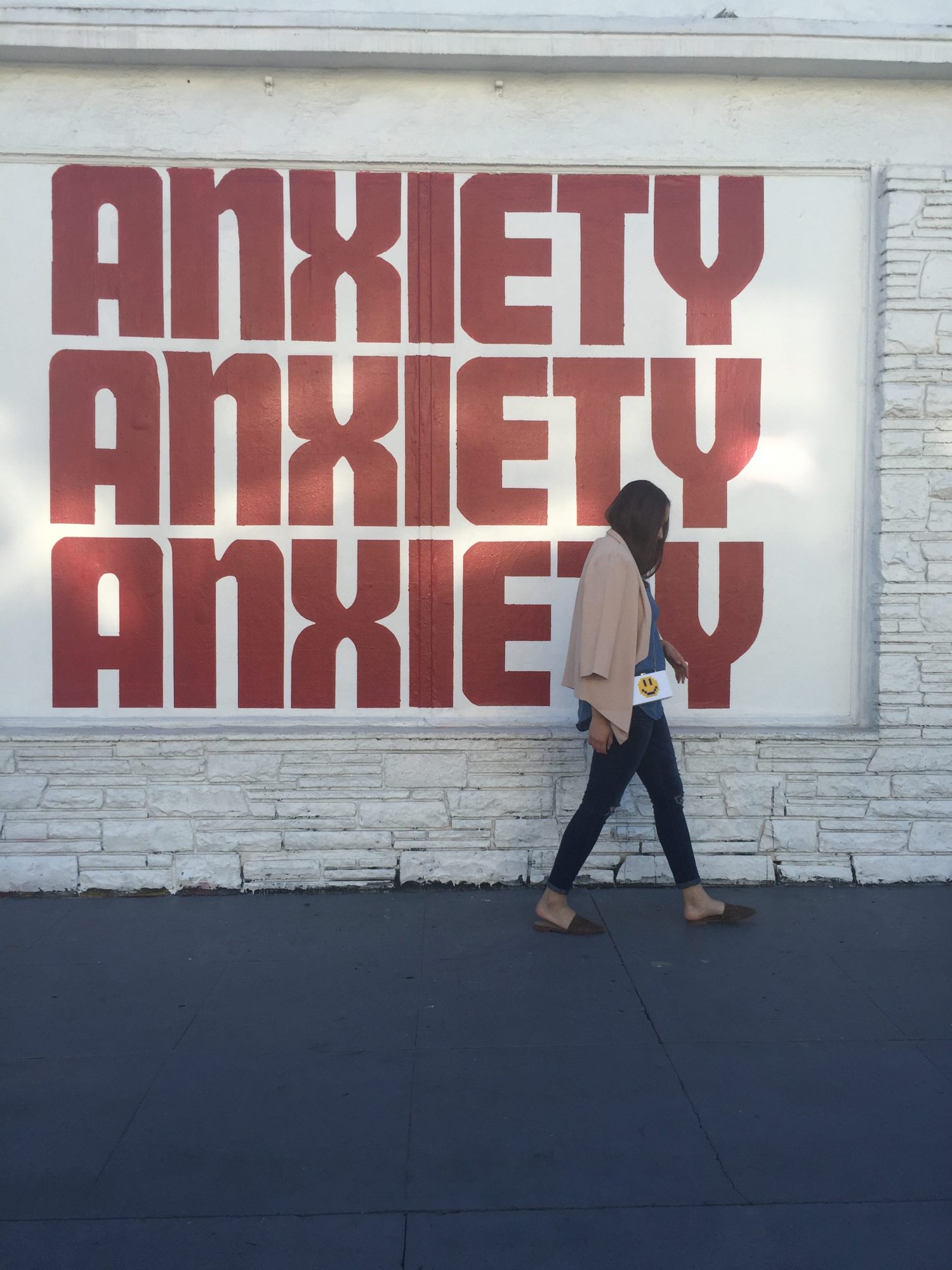 So maybe this is more Canadian tuxedo effect than Canadian tuxedo. That's okay. I am wearing a bright lip here, if burnt fuchsia counts as bright. It's Urban Decay Sheer Revolution lipstick in Sheer Shame, which has one of those miracle formulas that is moist but not glossy. One coat of color offers the suggestion of pink. Another layer deepens the hue like a natural flush. A coat or two more and you have vibrant, gradation-born fuchsia that stays stubbornly put through night hours.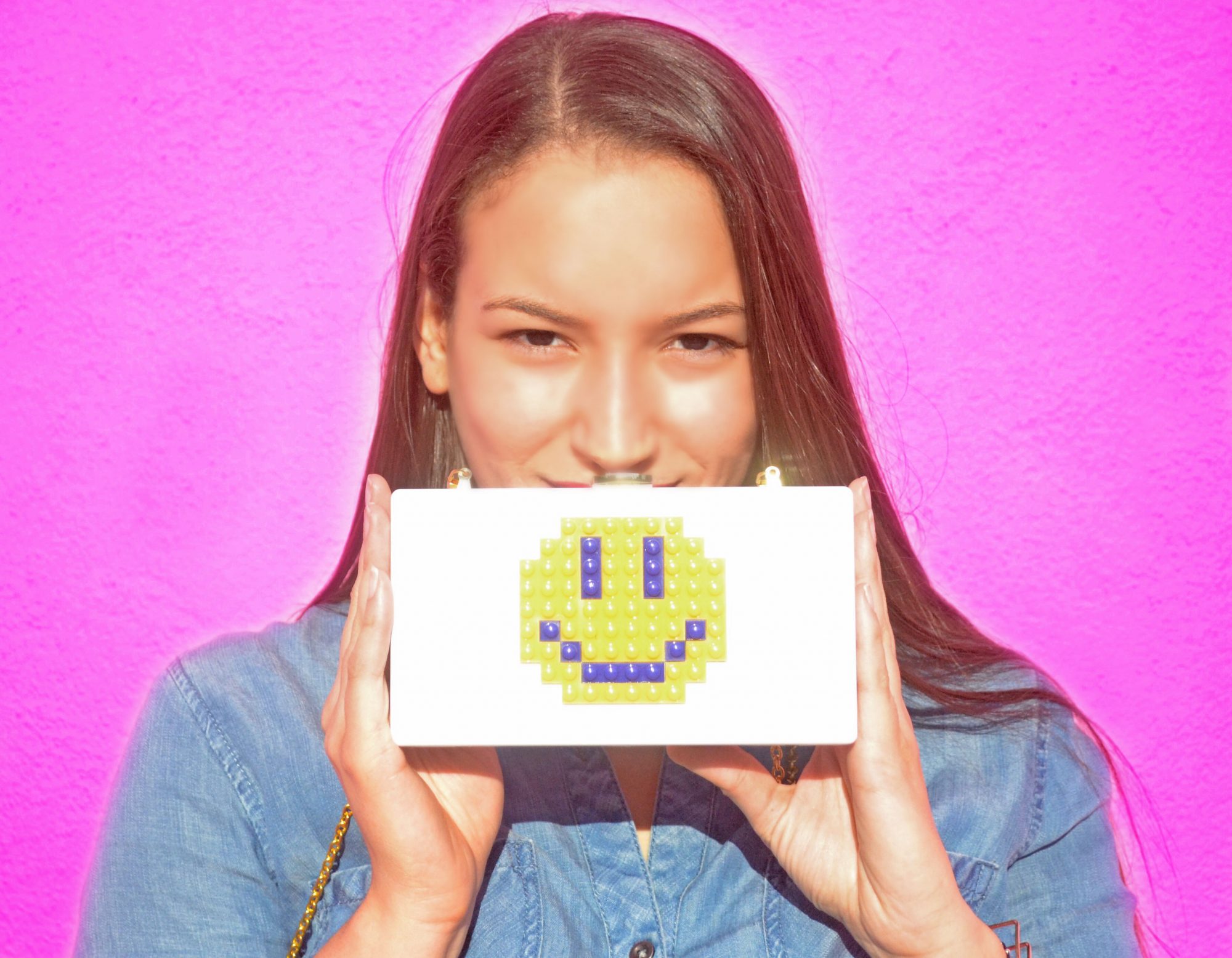 And finally, this happy face handbag, found in a bin under a pile of mesh lingerie at Nastygal, makes me smile. I think that's why I bought it—the power of suggestion. If the item imbues happiness it becomes happiness, right? No. Yes. Maybe in some small ways. I wore it on New Year's Eve in Santa Barbara with my boyfriend last year, our first trip away together. The entire night I was in quiet competition with the handbag. Who can smile bigger? I won.
Buy a variation of the look here:
7 For All Mankind Jean, $99.99
GRLFRND Denim Shirt, $118
Edie Parker Happy Face Bag Charm, $125
Topshop Angelina Flat Mule, $48