Camila Mendes' relatable wardrobe malfunction is actually a low-key style statement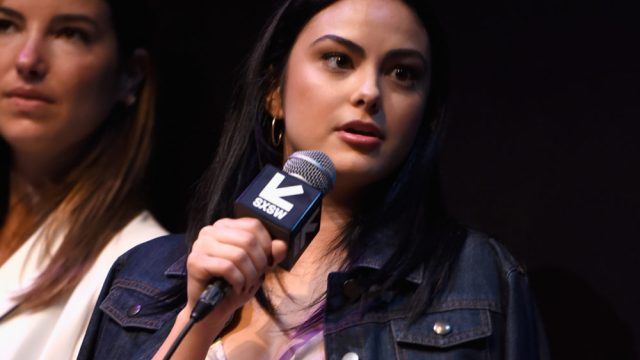 If you haven't worn a pair of jeans and suddenly stood up to realize that they've split horizontally across the seat, then you haven't lived. The ripped pants wardrobe malfunction is an equal opportunity offender and can seize anyone's butts, at any time, in any pair of pants. Riverdale's Camila Mendes documented the death of a certain pair of jeans when they unceremoniously tore in half, but are her cheeky ripped jeans actually on-trend?
"Abandon hope all ye brazilian booties who enter these jeans," she captioned the photo of her torn pants. She also commemorated the occasion on Instagram Stories with the iconic Spongebob "Ripped My Pants" song.
Her co-worker Cole Sprouse commented on the photo with his signature social media wit, writing: "Levi 401 cleft cuts."
Here's the thing though, while this falls under the category of "wardrobe malfunction," there's an equal number of humans out there who would call this fashun. Kylie Jenner once sported ripped butt denim jeans, and we assume she paid for the pants to come like that. Revolve even carries a pair of jeans with a small butt rip not unlike Mendes'. However, Revolve's ripped pants retail for $185. Or you could just buy a cheap pair of denim and stand up wrong one time, and voilà: on-trend ripped butt denim.
https://www.instagram.com/p/Bg2VDaYAdi0
What's even sillier is that there are DIY guides out there to achieve "ripped butt denim." One woman's wardrobe malfunction is another person's street style moment.
https://www.youtube.com/watch?v=vY3GdxCHPZ0?feature=oembed
https://www.instagram.com/p/BJtQehWh_vm
If this were us, we'd take a clue from Jenner's playbook and just pretend our pants came that way. Bam, instant trendsetter.